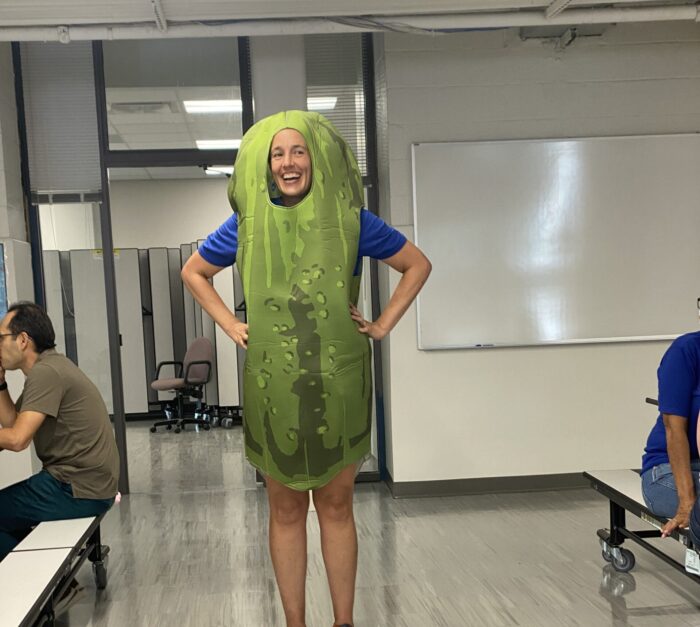 Blossoming with Lola Bloom at DC Bilingual
Our school partners play a pivotal role in making Emeril's Culinary Garden & Teaching Kitchen accessible to thousands of students across the nation. To kick off the new school year, we wanted to share insights from one of our partners, DC Bilingual. And who better to share the secret ingredients to their success than Lola Bloom. Formerly the Director of Food and Wellness and currently the Food and Wellness Consultant for the school, Bloom celebrates her eighth year at DC Bilingual this August. She was excited to share how integral our program has become to the overall success of students at the school.
DC Bilingual has been a school partner with Emeril's Culinary Garden & Teaching Kitchen since 2019. Located in Washington, D.C., the school serves more than 500 pre-K through fifth grade students. At the core of DC Bilingual 's school culture is an emphasis on the value of learning within a diverse community.
Before joining our network of school partners, DC Bilingual was looking to build out its cooking and gardening classes Since incorporating Emeril's Culinary Garden & Teaching Kitchen into the curriculum at the school, Bloom has been able to see the students blossom in many different ways.
"We teach kids how to follow recipes, but each class sometimes ends up with a different result; it's not identical. With gardening, you might have a limited palette based on the space you have, the season, or what you want to grow, but a different outcome can happen every time, and I find that magical," Bloom said.
Emeril's Culinary Garden & Teaching Kitchen offers more than just culinary life skills; it imparts invaluable life lessons. "By the end of the year, kids are able to work together in a way that they didn't before we had this program at our school," Bloom said.
Bloom was also proud to mention that by being a part of this program, the students and staff at DC Bilingual get inspiration from Chef Emeril's legacy every day. According to Bloom, Emeril has an amazing showmanship that gets kids and the staff excited about the program and being able to share a love for food with others. "I think his passion and love for cooking, along with his fun and humor around food, is appealing. We are able to relate that to the students," said Bloom.
Reflecting on the elements crucial for the success of a program like Emeril's Culinary Garden & Teaching Kitchen, Bloom pinpoints three: "Support from the leadership, fostering strong school relationships centered around food, and impeccable timing."
When asked what advice she would give to other schools looking to incorporate garden and culinary arts education, Bloom said she appreciates that the program is built in such a way that makes it easy for different schools to implement it. She would advise other schools interested in Emeril's Culinary Garden & Teaching Kitchen to seek inspiration by visiting school partners like DC Bilingual to see the unique ways that the program can be implemented to help the students.
To learn more about DC Bilingual, visit dcbilingual.org.