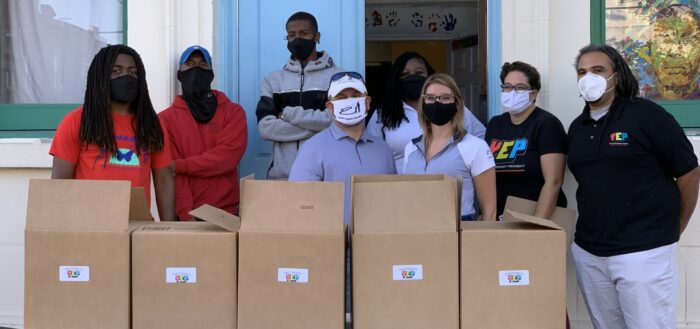 Holiday Giving Helps to Keep Traditions Alive for YEP Families
As we move through a particularly difficult holiday season, families are relying even more on support from youth organizations to help keep holiday traditions alive. This year, we have partnered with Youth Empowerment Project (YEP) to sponsor its holiday giving program, helping to make sure youth and families are able to celebrate the holidays with home-cooked meals and holiday gifts.
The week before Thanksgiving, team members from Emeril Lagasse Foundation and YEP distributed 75 Thanksgiving meal-kit baskets to families of the YEP Enriches program. The baskets included ingredients for traditional Thanksgiving sides plus a gift card for recipients to purchase a turkey or other grocery items on their holiday shopping lists.
Having the support of the Emeril Lagasse Foundation around the holidays has been an immense help," says Darrin McCall, Director of Programs for YEP. "We know this time of year can be tough for some of our families, so having extra support from the Foundation helps make their holidays a little bit brighter.
The sponsorship also helped to fund other YEP holiday giving programs, including a Christmas gift drive on December 11. During the drive, over 100 gifts were provided to 65 YEP program families, including board games, clothing items, art supplies, sports equipment, and more.
Celebrations like this help kids find happiness during COVID," says fourteen-year-old Hope, one of this year's holiday giving program recipients.
As the Greater New Orleans area's largest, most comprehensive organization addressing the needs of vulnerable youth, YEP annually serves more than 1,200 young people through its after school, summer camp and workforce development programs. YEP provides mentoring and advocacy for youth, adult and youth education programs, and employment readiness training as part of its core mission of empowering young people to succeed.
Youth Empowerment Project was founded in 2004 by three juvenile justice advocates to support formerly incarcerated young people as they transitioned back into their communities. It was the first program of its kind in the state of Louisiana. Since then, YEP has expanded to engage young people who live in poverty, are out of school or work, or have experienced trauma. Today, YEP provides mentoring, high school equivalency education, employment readiness, and enrichment programming to help young people develop the skills, relationships, and experience they need to thrive.
YEP has been a beneficiary of Emeril Lagasse Foundation since 2013. Grants by the Foundation to YEP have helped to fund its legacy educational programs and have also supported the unique needs of families in the wake of the COVID-19 pandemic.
The 2020 holiday season will be unlike any other, with many facing unprecedented challenges. Emeril Lagasse Foundation recognizes these challenges and is proud to support YEP staff as they help to spread hope and happiness this holiday season to the youth and families they serve