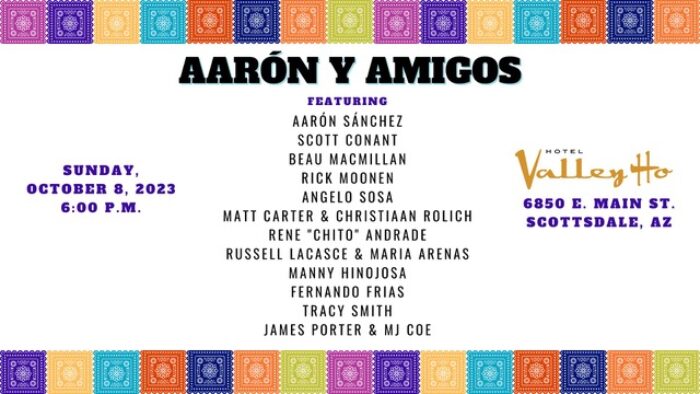 Aarón y Amigos Celebrate National Hispanic Heritage Month
Celebrity Chef Dinner Benefits Aarón Sánchez Impact Fund
The Aarón Sánchez Impact Fund, a program of Emeril Lagasse Foundation, has announced it will host "Aarón y Amigos," a fundraising event featuring a cast of Chef Aarón's "amigos" from across the country. The event will occur at 6 p.m., Sunday, October 8, at the Hotel Valley Ho in Scottsdale, AZ, with a grand reception and meet and greet with Chef Aarón kicking off the evening. Guests will then enjoy a five-course seated dinner with wine and tequila pairings while having an opportunity to bid on a stellar live auction line-up.
Happening during National Hispanic Heritage Month, proceeds from the evening will benefit the Aarón Sánchez Impact Fund, a cause that uplifts the lives of Latino youth through food. Since 2016, the Impact Fund has awarded fifteen culinary arts scholarships to young Latinos valued at over $975,000 and is expanding its work into human services.
Chef Aarón will be sharing the spotlight with celebrated Chefs Beau MacMillan, Scott Conant, Angelo Sosa, Rick Moonen, Global Tequila Ambassador Manny Hinojosa, Chefs Matt Carter, Russell LaCasce, Rene "Chito" Andrade, Maria Arenas, James Porter, and MJ Coe, Mixologist Christiaan Rollich, Winemaker Fernando Frias, and Winery General Manager Tracy Smith to join him in creating an evening of culinary delights.
"I am thrilled that my amigos are sharing their time and talent for this amazing event in Arizona," said Sánchez. "Together, we will raise money for the Impact Fund, but, more importantly, the effect it will have on Latino youth is life-changing."
Tickets to Aarón y Amigos are available now online at AaronSanchezImpactFund.com/amigos. Eight-top tables are available for $4,000. Individual tickets are also available for $500 per guest. Space is limited for this one-of-a-kind event.
Sponsors of Aarón y Amigos include Andre Agassi Foundation for Education, Hotel Valley Ho, Tequila Cazadores, The Perfect Puree, Frias Family Vineyard, Somnium Wine, Louisiana Seafood, Forever Oceans, EB Inc. Event Rentals, and Meats by Linz. Additional sponsorships are still available.
About Aarón Sánchez Impact Fund: A program of Emeril Lagasse Foundation that uplifts the lives of Latino youth through food. The culinary arts education pillar works to diversify future kitchen leadership through scholarships, financial support, mentoring, and career pathways guidance. The Aarón Sánchez Scholarship Fund, established in 2016, serves as the signature education program of the Impact Fund. The human services pillar works toward changing the trajectory of Latino youth lives through better food access, nutrition education, crisis feeding programs, and more.
About Emeril Lagasse Foundation: Founded in 2002 by Chef Emeril Lagasse and his wife Alden, Emeril Lagasse Foundation is a 501c(3) public charity headquartered in New Orleans. The Foundation's mission is to create opportunities to inspire, mentor, and enable youth to reach their full potential through culinary, nutrition, and arts education with a focus on life skills development. Since its inception, Emeril Lagasse Foundation has granted more than $19.3 million to children's charities to support culinary, nutrition, and arts programs. The Foundation accomplishes this through three programs. The Community Grants program provides programmatic and capital support to nonprofit organizations across the nation. The signature program, Emeril's Culinary Garden & Teaching Kitchen, is a national education initiative created to enrich the lives of elementary and middle school children through a fun, fresh perspective on food. The Aarón Sánchez Impact Fund, the newest program, provides culinary arts education and human services programming for Latino youth. To learn more about the foundation and its beneficiaries, visit Emeril.org, or follow on Facebook, LinkedIn, or Instagram.