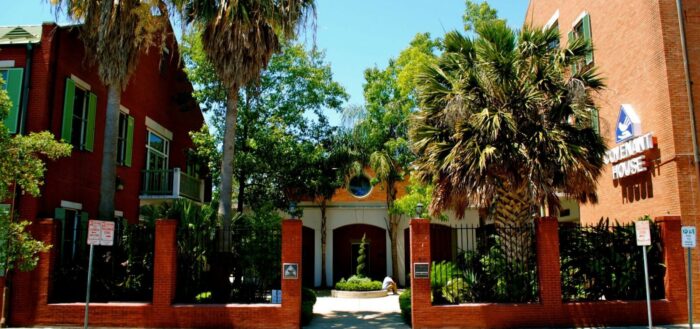 Beneficiary Spotlight: Covenant House
Emeril Lagasse Foundation is proud to announce a $100,000 grant to Covenant House, a crisis center for at-risk youth in New Orleans, in support of the Gift of HOPE campaign. The grant will allow Covenant House to renovate, update and rename the kitchen and dining hall into the Alden and Emeril Lagasse Kitchen and Dining Hall. The kitchen will be responsible for feeding current residents of the program as well as other hungry youth that come to Covenant House off the street through their outreach programs. This year alone, the program is expected to provide over 60,000 meals to homeless and hungry children. The Dining Hall will also serve as a safe space for participants of the program to host birthday & holiday parties and other celebrations throughout the year.
For three decades, Covenant House has provided a safe haven for at-risk, homeless youth. The program serves over 700 young people annually across three residential programs and is the only 24/7 emergency crisis center for at-risk youth in Louisiana. Since opening its doors in 1990, Covenant House has helped 30,000 kids to leave the streets, achieve stability and either reunite with family or build the necessary skills and resources for independent living.
The Gift of HOPE Campaign was created in efforts to expand and enhance its comprehensive youth programming. With funds from the campaign, Covenant House will expand services and care of victims of human trafficking, increase the number of Rights of Passage transitional living residents, build a new health and wellness center and enhance services for homeless young families. It will also contribute to capital improvements, including new heating and air conditioning units, emergency generators, a meditation chapel and a welcome center.
The Foundation has been a supporter of Covenant House since 2007 and has donated over a quarter of a million dollars in support of its mission. Covenant House functions on the cornerstones of open intake, unconditional love and absolute respect, and it provides security and resources for youth who are escaping abuse and traumatic life experiences.
The Emeril Lagasse Foundation is proud to support such a giving and meaningful organization. Learn more about Covenant House and the important work they are doing at https://www.covenanthousenola.org/.