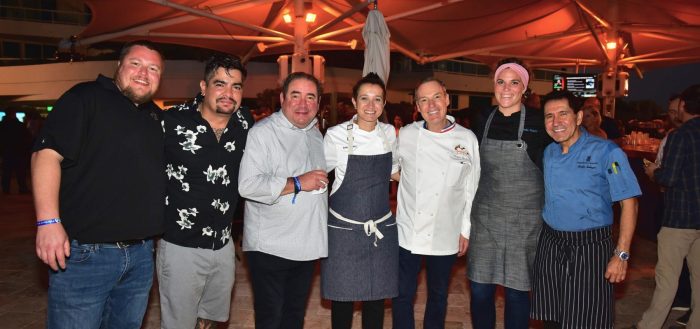 Emeril Lagasse Foundation Raises $900,000 at Line, Vine & Dine 2020
Emeril Lagasse Foundation hosted its annual Line, Vine & Dine charity fishing tournament February 6-8 in Fort Lauderdale, raising $900,000 to support local charities Arc Broward and Dan Marino Foundation. Since the inaugural event in 2017, the Foundation has raised more than $3 million through Line, Vine & Dine insupport of these and other non-profits which provide culinary and hospitality training to young people with developmental disorders and other life challenges.
"Inspiring, mentoring and enabling youth to reach their full potential is at the heart of everything we do," said Chef Emeril Lagasse. "Arc Broward and Dan Marino Foundation are doing incredible work in the Fort Lauderdale community that embodies our mission. Line, Vine & Dine allows us not only to raise money for the programs these organizations provide to young people, but it also offers the opportunity for the students from to work alongside some of the nation's top chefs."
The fourth annual Line, Vine & Dine kicked off on Thursday, February 6 at the Ritz Carlton Fort Lauderdale with a Welcome Reception, featuring dishes from Chef Paula DaSilva and dessert from Chef Jacques Torres. On Friday, February 7, the two-day charity fishing tournament commenced, with 21 teams competing in the billfish division for the title of Tournament Champion. Guests who didn't compete in the fishing tournament enjoyed a Poolside Trunk Show by Neiman Marcus Fort Lauderdale where the students from Arc Broward & Dan Marino Foundation showcased custom Line, Vine & Dine merchandise. The day's activities concluded with the Dockside Weight In & Yacht Hop at Pier Sixty-Six Marina.
The weekend's festivities came to a close on Saturday, February 8, with the Vine & Dine Seafood Cook-Off. Chefs Sean Brasel, Clay Conley, Angelo Elia, Cindy Hutson, Jose Mendin, Kendra Sheets and Frank Szymanski, prepared a variety of seafood dishes paired with wine from some of Napa's and Sonoma's top winemakers. Tournament awards, a live auction and a special performance by Yachty by Nature highlighted the evening.
Throughout the weekend, students from Arc Culinary and Dan Marino Foundation were paired with chefs & winemakers for an unforgettable, hands-on learning experience. Culinary students assisted participating chefs with the preparation and cooking of dishes served over the course of the event. Hospitality training students worked with participating winemakers throughout the weekend, learning how to pour and serve wine to guests.
Arc Broward offers post-secondary certification programs that provide individuals with disabilities or other life challenges an opportunity for meaningful career paths. The Institute not only prepares students for entry level positions within restaurants, hospitality and the food service industry, but also instills a sense of confidence in their skills that places them on a path to success.
Dan Marino Foundation provides programs and opportunities for individuals with autism or other developmental disabilities in South Florida. The Marino Campus is an intensive 10-month program that assists students in bridging the gap between high school and employment.
"Each year, Line, Vine & Dine brings together renown chefs, the finest winemakers and sporting enthusiasts who all lend their time and talents in support of our mission," said Brian Kish, Emeril Lagasse Foundation president. "We have the deepest gratitude for our donors, sponsors, chefs, winemakers and the young people from Arc Broward Culinary Institute and Dan Marino Foundation who made this year's event an amazing success."