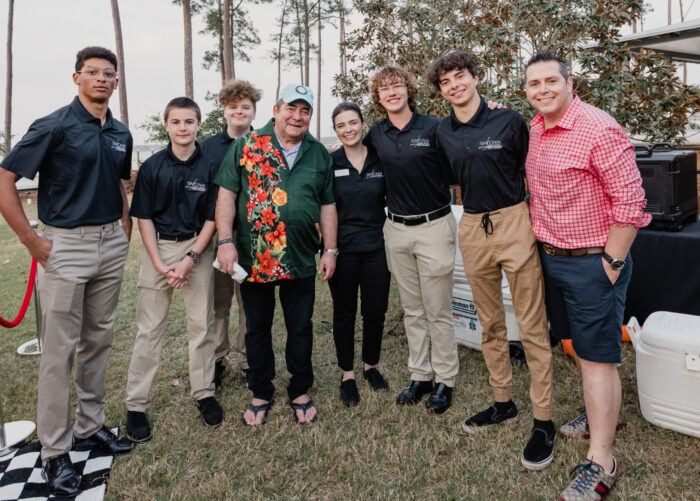 Chi Chi Miguel Weekend Raises Funds for Youth in Walton and Okaloosa Counties
Over 250 Guests Gather in Support of Local Charities
Miramar Beach, FL – Emeril Lagasse Foundation completed a successful weekend of fundraising events in Walton County. The series of events kicked off with a multi course wine dinner at Emeril's Coastal, where Chef Emeril Lagasse and his Chef de Cuisine Tommy Wachter prepared an exquisite meal with wine pairings from California vintners. Burnt Pine Golf Club hosted a golf tournament with exciting hole activations, and the weekend culminated with a benefit auction and barbecue rib cookoff. After a panel of judges performed a blind tasting of the team's ribs, guests were invited to vote on fan favorite ribs, best sides, and best costumes.
"We are honored to carry-out the vision of founders and co-chairs Mike "Chi Chi" and Valerie Thompson," said Brian Kish, President of Emeril Lagasse Foundation. "This year's funding focus is to further our mission to inspire, mentor and enable youth to reach their full potential through culinary, nutrition and arts education."
The weekend's fundraising efforts benefit five Gulf Coast nonprofit organizations: Alaqua Animal Refuge, Emerald Coast Children's Advocacy Center, Food for Thought, The Ingram Lee Foundation, and Sinfonia Gulf Coast. Grants from this year's event will be announced soon. The Foundation has invested over $2M in Walton and Okaloosa Counties to date.
Guests nationwide along with local community members gathered with award-winning vintners and spirit makers Black Sheep Tequila, Bricoleur Vineyards, DK Convene, Frias Family Vineyard, Greystack Cellars, Gulf Water Wines, Selah Wines, Thompson 31Fifty Wines, Valette Wines, Vignobles Sullivan Estate Wine, Williams Selyem, and Wine World who provided exquisite libations throughout the weekend's three events. Alongside Chef Emeril Lagasse, the competing barbecue teams featured renowned chefs Tim Creehan, Thomas Bellec and pitmaster Bobby Simmons.
The weekend's top presenting sponsor was Setco. Other sponsors include Grey Rock, Four Shamrocks, Steagles Oil, LLC, Grand Bay Construction, Compass, Hilton Sandestin, Seagar's Prime Steaks & Seafood, Serenity by the Sea, RJH & Associates, Inc., JM Phelps, Corcoran Services, PeachTree, Wells Fargo Advisors, and more.
About Emeril Lagasse Foundation: Founded in 2002 by Chef Emeril Lagasse and his wife Alden, Emeril Lagasse Foundation is a 501c(3) public charity headquartered in New Orleans. The Foundation's mission is to create opportunities to inspire, mentor and enable youth to reach their full potential through culinary, nutrition, and arts education with a focus on life skills development. Since its inception, Emeril Lagasse Foundation has granted more than $18.5 million to children's charities to support culinary, nutrition, and arts programs. The Foundation accomplishes this through three programs. The Community Grants program provides programmatic and capital support to nonprofit organizations across the nation. The signature program, Emeril's Culinary Garden & Teaching Kitchen, is a national education initiative created to enrich the lives of elementary and middle school children through a fun, fresh perspective on food. The Aarón Sánchez Impact Fund, the newest program, will provide culinary arts education and human services programming for Latino youth.
Photo Credit: Shelly Swanger