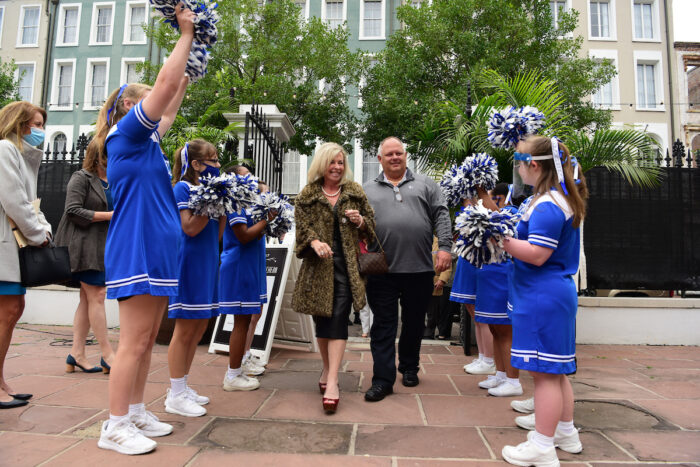 Donor Spotlight: Teena and Cliff Hardwick
Closely embodying the adage, "you are the company you keep," Teena and Cliff Hardwick have found inspiration in the shared values fostered through Emeril Lagasse Foundation. We were honored to learn from Teena and Cliff as to why the Foundation has become an integral part of their lives. 
Living in the Atlanta area, the couple's introduction to the Foundation came in 2019, courtesy of their youngest son, who had just started his freshman year at Louisiana State University. That same year, they attended Carnivale du Vin, our annual fundraising gala. Teena shared, "We fell in love with everyone we met, the event itself, and the mission of the Foundation." 
Their personal connection was further strengthened after witnessing the grace exhibited by St. Michael's Special School handbell choir during the annual Beneficiary Luncheon. Each year, the choir performs for guests as a reminder of the potential to create beauty from dedication. Drawing from her own experiences, Teena said,
"They work with kids to build confidence not only inside but outside the walls of St. Michael's. Because I had that connection of being in a handbell choir as a child, I was able to watch the gifts it provides, and that was our first donation that day."
Throughout the Carnivale du Vin event weekend, the Hardwicks continued to witness the mentorship and skills the Foundation provides youth. They became eager to continue to support as well as attend our events, which they have not missed since. 
Cliff emphasized the couple's commitment to causes that empower children to meet their potential.
"When we first saw the Foundation's work at St. Michael's, it was clear Emeril and Alden aim to educate kids for a future, to provide opportunities." 
The Hardwicks' passion for the Foundation's mission deepens with each encounter. Seeing firsthand the impact made through our community grants and signature program, Emeril's Culinary Garden & Teaching Kitchen. When highlighting why they believe in the education component of the Foundation's work, Cliff shared,
"They build curriculums that make sense. Giving students a process to learn math and units of measurement through cooking is genius!"

Teena and Cliff cherish the relationships made here, and their support extends beyond financial contributions. "It's not just about the giving; we've been blessed beyond measure because of our initial involvement and the people we met when we were introduced to the Foundation in 2019," Teena noted.
The Hardwicks are passionate advocates for teaching essential life skills to the next generation – values they've imparted to their children, encouraging their continued involvement with the Foundation in the future. The Foundation is grateful for their generous spirit and support of our efforts.