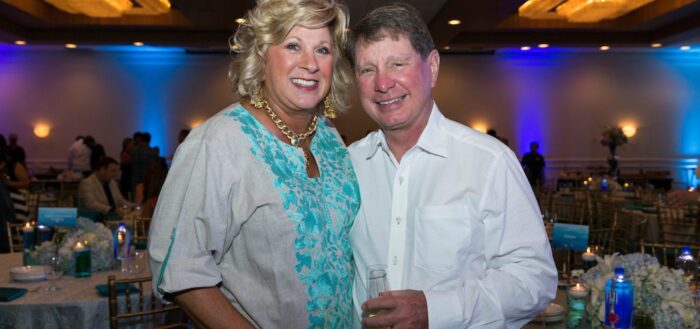 Donor Spotlight: Molly & Carroll Smith
One of the many reasons behind the Emeril Lagasse Foundation's success is the incredible generosity of our donors who lend support from across the country.
Our latest spotlight highlights two of the Foundation's long-time donors and friends who reside in Houston, TX. Carroll and Molly Smith have contributed graciously over the years and remain to this day, some of the Foundation's most passionate advocates.
Five years ago, a chance encounter during a vacation brought the Smiths to the same dinner table as the Foundation's board member, Paul Frank and his wife Suzie. Strangers at a dinner table quickly turned into friends, and the couple was invited to attend the Foundation's annual charity wine auction and black-tie gala, Carnivale du Vin in New Orleans that year.
"Always ready for a party, we said sure…and we did," said Molly, reminiscing on the fortuitous encounter. "We were honored to be Paul and Suzie Frank's guests for Boudin, Bourbon & Beer and Carnivale du Vin."
But when the couple arrived at the Foundation's fundraising weekend that November, they quickly realized that the weekend was about so much more than parties. After visiting two of our inspiring beneficiaries, Café Reconcile and St. Michael Special School and seeing the impact firsthand, the Smiths immediately knew that they wanted to be involved in a bigger way.
"It was when we visited St. Michael Special School and the students sang to everyone in attendance. There was not a dry eye in the house," said Carroll Smith. "We were hooked, line and sinker. We had always known of Emeril – but we had no idea of the good works that he and Alden were doing in these communities."
Since then, the Smiths have graciously supported the Foundation in numerous ways. From attending fundraising events and bidding on live auction lots, to spreading the word of the Foundation's work, the couple is an example of the philanthropic passion behind the success of our organization.
Deeply committed to their own community as well, Molly and Carroll have held several positions with numerous organizations that support causes they believe in.
Molly has served as Justice of the Peace since 1988. After retiring in 2008, she still acts as visiting judge for 16 courts and has made a name for herself through her unwavering commitment and dedication to her community.
A small business owner for 45 years, Carroll is the proud founder and president of Monument Chevrolet in Pasadena, TX. He also dedicates much of his time to supporting the Automotive Youth Education System, a program that grows career and automotive technology training among youth.
While the couple is very visible within their community, they will tell you that their greatest joy comes from doing things that no one sees.
"It is said that character is the good works you do in the dark, when no one is watching," said Carroll. "And that's the way it is for us and the Emeril Lagasse Foundation. Our participation is not from an obligation to build a business through advertising, or an attempt to impress voters. We do it because it feels right."
The Emeril Lagasse Foundation is endlessly thankful to have such a passionate and gracious couple involved with moving our cause forward. Learn more about how you can get involved or make a donation by visiting our Get Involved page.