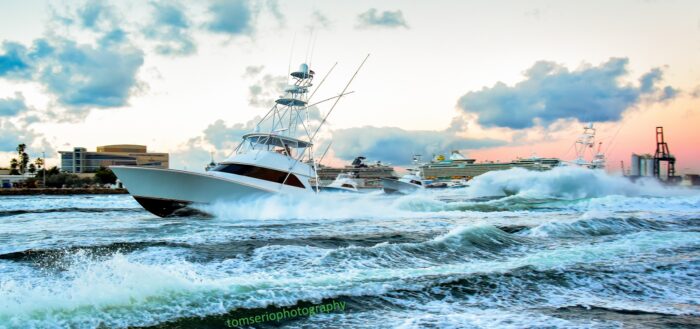 Emeril Lagasse Foundation Raises $800,000 at 3rd Annual Line, Vine & Dine Fishing Tournament
Emeril Lagasse Foundation raised $800,000 for non-profit organizations during its third annual Line, Vine & Dine fishing tournament held February 7-9 at the Pier Sixty-Six Hotel & Marina in Fort Lauderdale. Proceeds benefited Emeril Lagasse Foundation and local charities Arc Culinary and Dan Marino Foundation – Marino Campus. Both organizations are dedicated to providing culinary and hospitality training to young people with developmental disorders and other life challenges.
"My wife Alden and I are grateful for the success of Line, Vine & Dine and for the generosity of our donors, sponsors, chefs, winemakers and the Ft. Lauderdale community who make this weekend possible," said Chef Emeril Lagasse. "Funds raised from this event enable the Foundation to provide life-changing support for these inspiring organizations that represent our mission."
The world-class sporting and culinary event kicked off on Thursday with Champagne & Ceviche, a captain's reception sponsored by HMY Yachts and Viking Yachts. On Friday morning, the two-day charity fishing tournament commenced, where 14 teams competed in the billfish division for the title of Tournament Champion. Guests who were not fishing enjoyed a fashion show and luncheon presented by Neiman Marcus Fort Lauderdale. Friday night festivities continued with a lively dockside weigh-in celebration that featured signature dishes from Chefs Emeril Lagasse and Rick Moonen and entertainment by Locos Por Juana.
On Saturday evening, wine country met the Florida coastline with the Vine & Dine Seafood Cook-Off. Guest chefs Sean Brasel, Angelo Elia, Cindy Hutson, Greg McGowan, Habteab Hamde and José Mendin prepared a variety of seafood dishes paired with wine from some of Napa's and Sonoma's best winemakers. Tournament awards, a live auction featuring one-of-a-kind items and luxury experiences, as well as a special performance by Pat Green highlighted the evening.
"For the third year, Line, Vine & Dine brought together the very best of the sporting, wine and culinary worlds to support youth education." said Brian Kish, president of Emeril Lagasse Foundation. "We are so proud to be able to give back to such deserving organizations and we look forward to many more years serving the Fort Lauderdale community and beyond."
For more information about the event, visit www.linevineanddine.com. To learn more about the Emeril Lagasse Foundation, visit www.Emeril.org.