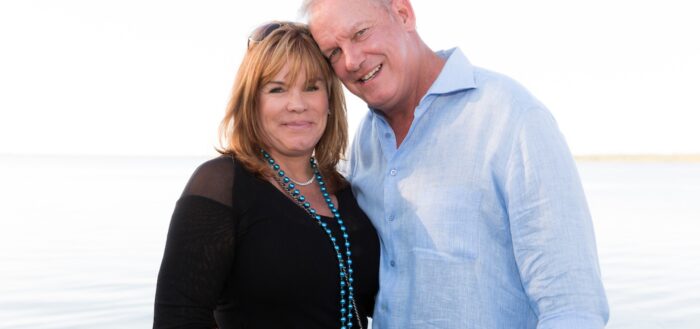 Donor Spotlight: Tammy and Jim Pierce
Through personal donations, corporate gifts and sponsorships, our generous donors contribute in many ways to the overall success and mission of the Emeril Lagasse Foundation.
As we approach this year's Chi Chi Miguel Fundraising weekend in Santa Rosa Beach, Florida, the Emeril Lagasse Foundation would like to spotlight Tammy and Jim Pierce, long-time donors who have contributed graciously to the Foundation over the years and who have played a key role in the success of events like the Chi Chi Miguel weekend.
Jim and Tammy were introduced to the Emeril Lagasse Foundation by their friends Mike and Val Thompson, who invited the Pierces to join them in New Orleans for Carnivale du Vin. It was during the weekend's beneficiary luncheon where they felt a true connection to the Foundation's mission to inspire, mentor and enable youth to reach their full potential.
As part of the weekend, we attended a luncheon at Café Reconcile, and the speeches from the kids working there touched our hearts. I can still remember crying while listening to their stories," says Jim. "My childhood was very tough. There is no telling how I would have ended up if people hadn't stepped up and helped me at critical times in my life. I am so grateful for their help and try to pass it along.
Since that touching moment at Café Reconcile, the Pierces have graciously supported the Foundation in numerous ways. From attending fundraising events and bidding on live auction lots, to serving on the Foundation's Board of Directors and Advisory Committee, Jim and Tammy are an integral part to the success of our organization.
We have been very blessed. We enjoy helping others–helping people and organizations make a difference in young lives, along with being around people who also want to help others, says Tammy Pierce.
In addition to their invaluable roles within the Foundation, Jim and Tammy also contribute time to many other charities that support disadvantaged youth and children of domestic violence, including two of this year's Chi Chi Miguel beneficiaries.
The Pierces support Food For Thought in Florida, a not-for-profit that provides backpacks filled with healthy, easy-to-prepare food to students who are dependent on free or reduced school meals. This food helps bridge the gap between school meals during weekends and holiday breaks.
Another organization that benefits from the Pierces' generosity is the Emerald Coast Children's Advocacy Center in Florida, a nonprofit that works to prevent child abuse and neglect, protect children, and restore the lives and futures of affected children. The center's location in DeFuniak Springs, Florida, is named the Pierce Family Children's Advocacy Center.
The Emeril Lagasse Foundation is endlessly grateful for the continued support of donors like Jim and Tammy Pierce who help move our mission forward. Learn more about how you can get involved or make a donation by visiting our Get Involved page.