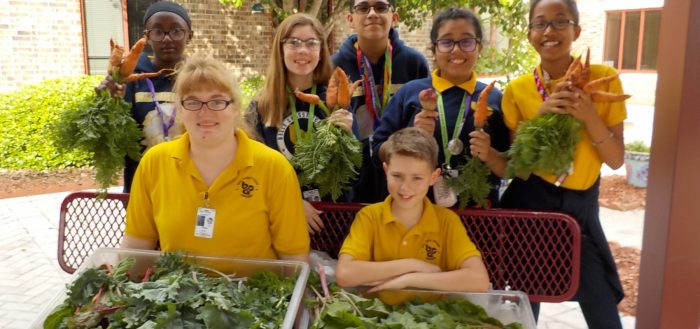 Emeril Lagasse Foundation Announces New School Site for Emeril's Culinary Garden & Teaching Kitchen
Chef Emeril Lagasse and the Emeril Lagasse Foundation are proud to announce Belle Chasse Academy as its second school site of the recently launched Emeril's Culinary Garden & Teaching Kitchen. Established by the Emeril Lagasse Foundation, Emeril's Culinary Garden & Teaching Kitchen is a nationwide education initiative created to enrich the lives of elementary and middle school children through a fun, fresh perspective on food.
"My wife Alden and I are excited to welcome Belle Chasse Academy as the second school site of the Emeril's Culinary Garden & Teaching Kitchen program," said Chef Emeril Lagasse. "This program provides the resources, tools and knowledge to succeed in and beyond the classroom, and we are thrilled to bring it to New Orleans, the place where our Foundation work began and where we remain committed and invested."
Belle Chasse Academy is a pre-K through eighth grade public charter school that serves the five parishes of Greater New Orleans. The school's mission is to educate military-dependent children, regardless of background or educational experience, to fully achieve their personal and academic potential through core knowledge and skills in analysis, problem solving, communication and global responsibility.
With a five-year grant from the Emeril Lagasse Foundation, Belle Chasse Academy will expand its current gardening program and build an outdoor culinary learning center that will serve as the heart of the school's infrastructure. The center will house student classes conducted by the garden coordinator, culinary instructor, health teacher and classroom teachers, as well as guest experts such as chefs, farmers, economists and scientists.
Funds will also allow for the renovation of Belle Chasse Academy's existing culinary classroom, the completion of its hydroponic lettuce produce system and the expansion of the school's vegetable production garden.
"In New Orleans, where food is such a centerpiece, this program goes beyond the classroom, expanding the education of our youth in a fun, relatable way," said Brian Kish, president of the Emeril Lagasse Foundation. "Our landmark program is designed to allow children from all walks of life to prepare for their futures and fully immerse themselves in nutrition and food education."
The grant also provides a K-8 gardening and cooking curriculum that is aligned with national academic standards, over 100 of Chef Emeril's recipes that have been modified for the classroom, gardening and cooking education best practices and guidelines, and teacher trainings on how to use the tools provided with the program.
Emeril's Culinary Garden & Teaching Kitchen was first established at a school in Florida. Other schools under consideration are in California, Nevada, Texas and Washington, D.C., with the goal of having the program operating in at least 10 schools by 2023.
Schools interested in applying for a grant to implement the program can learn more about the application process here. Corporations or individuals interested in offering support can learn more here.