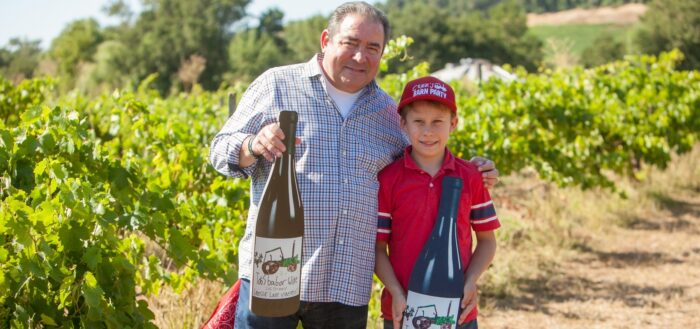 Emeril Lagasse Foundation Hosts a Celebration of Philanthropy at Limerick Lane Cellars
On the evening of August 1, Emeril Lagasse Foundation hosted 'Cruz's Barn Party' – a celebratory wine tasting event at Limerick Lane Cellars to support local winemaker Cruz Bilbro's goal of raising $500,000 for programs supported by Emeril Lagasse Foundation.
The event featured a paddle raise, picnic-style bites and wine tastings from Arista Winery, AldenAlli, Limerick Lane Cellars, Mauritson Wines & Thompson 31Fifty. Attendees included Chef Emeril Lagasse, members of Emeril Lagasse Foundation's board of directors, additional California winemakers and other supporters of the Foundation.
At the center of the festivities was Cruz Bilbro – the 10-year-old winemaker who made his own barrel of Grenache and donated it to Emeril Lagasse Foundation's Carnivale du Vin wine auction in November 2018. The son of Limerick Lane owner Jake Bilbro, Cruz made the wine from his family's Russian River Valley property under the supervision of his father and named it Too's Babor Grenache 2016.
Cruz was inspired to create his own wine after meeting Emeril during a visit the chef made to the family's winery. The live auction lot "Cruz's Corks for Kids" featuring Cruz's wine raised more than $300,000 during last year's Carnivale du Vin. Since that time, Chef Emeril and his Foundation have been committed to helping Cruz reach his $500,000 fundraising goal through an ongoing charitable donation campaign.
In addition to charitable contributions received over the past year, 'Cruz's Barn Party' raised additional funds for the Foundation, bringing the total raised from Cruz's campaign to more than $500,000 and helping the young winemaker achieve his fundraising goal.
All proceeds from Cruz's Corks for Kids campaign will benefit culinary, nutrition and arts education programs supported by the Emeril Lagasse Foundation.