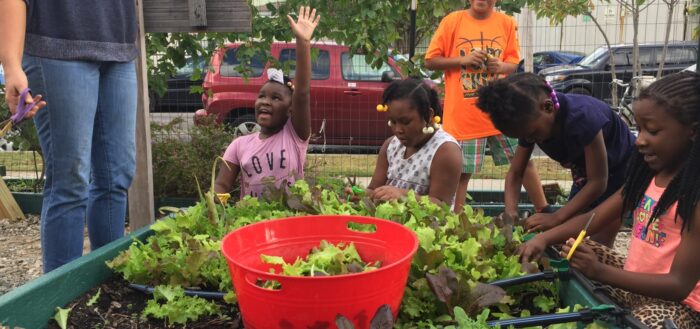 Meet Our 2019 Spring Grant Recipients
With another fundraising year in full-swing, the Emeril Lagasse Foundation recently granted $80,000 to four Gulf Coast community organizations to support youth education and development initiatives.
Meet the inspiring non-profits below that are benefiting from the generosity of our donors, sponsors and fundraising events, and learn more about the initiatives our grants will support.
Ingram Lee Foundation – Established in 2012, the Ingram Lee Foundation was founded to aid and improve the lives of motivated economically disadvantaged individuals by providing financial assistance for higher education. With the support from the Emeril Lagasse Foundation, the Ingram Lee Foundation established a scholarship program in 2013 for NOCCA's Culinary School that awards annual scholarships to graduating seniors who are dedicated to pursuing their dreams of attending college. This year, the Ingram Lee Foundation was able to award a scholarship to Justis Marino, a recent graduate of NOCCA's 2019 Culinary School class. She will be attending Nicholls State in the fall to further her culinary education
With support from the Emeril Lagasse Foundation, the Ingram Lee Foundation continues to provide annual financial assistance to qualified students and is positively impacting the futures of these youth for years to come.
Broad Community Connections – Founded in 2008 to promote the revitalization of Broad Street, Broad Community Connections (BCC) is a 501(c)3 community development organization working to improve the health and vibrancy of the neighborhoods along Broad Street in Mid-City New Orleans. The grant from the Foundation will benefit its ReFresh Kids Programming, which offers programming to neighborhood youth ages 8-12 through gardening, nutrition, cooking and food justice education and fund a ReFresh Community Garden Greenhouse. The program will reach approximately 130 children through the class series, with an additional 300 children through the ReFresh Community Garden Greenhouse in one year.
Louisiana Restaurant Association's Education Fund – The grant will benefit the School Support Fund, which provides financial assistance directly to Louisiana ProStart® programs beyond the limited funding the state is able to provide. The two-year program is the leading culinary and hospitality certification program for high school students that utilizes an industry-based curriculum and currently serves close to 1,500 juniors and seniors at 57 schools across Louisiana. Items purchased by schools through the School Support Fund include new cooking equipment, an extensive selection of perishables and transportation for industry interactions.
Second Harvest Food Bank – Launched nine years ago to reduce the gap in summer meal services, Second Harvest's Summer Feeding & Kids Café Programs provide free meals to thousands of children at summer camps, youth programs, community center and libraries in low-income areas throughout Greater New Orleans and South Louisiana. Support from the Emeril Lagasse Foundation will help offset program costs not covered by federal reimbursements. These costs include staff salaries to provide program oversight and ensure safety, quality, and effectiveness, the purchase of quality ingredients to prepare the meals, transportation costs to bring meals directly to hungry children and safe food packing and handling expenses.
With the crucial financial support from the Foundation, Second Harvest's Summer Feeding Program aims to provide 30,000 meals to 1,500 hungry children over ten weeks through the 2019 Summer Feeding Program and serve 60,000 dinner meals to 1,300 children at risk of hunger through the 2019-2020 school year through the Kids Cafe Program.
The Emeril Lagasse Foundation is honored to support these deserving New Orleans non-profit organizations with the financial assistance that helps them grow, prosper and ultimately impact lives of youth for years to come. Learn how you can donate or support Emeril Lagasse Foundation's mission by visiting our Get Involved page.