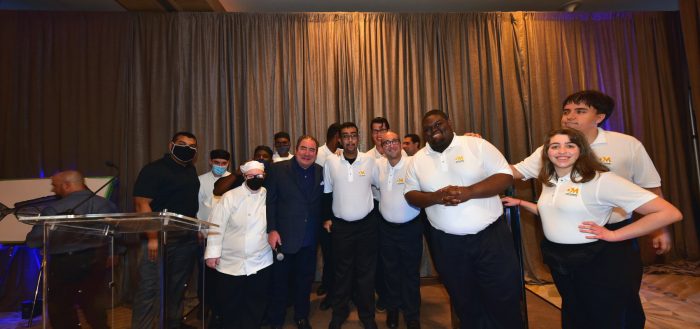 Emeril lagasse Foundation Line, Vine & Dine raises funds for children's charities
The Emeril Lagasse Foundation Line, Vine & Dine Weekend, held February 3 – 6 in Fort Lauderdale, FL, raised $830,000 in support of culinary and hospitality programs for Dan Marino Foundation-Marino Campus and Arc Culinary. These two non-profit organizations are dedicated to providing culinary and hospitality training to young people with developmental disorders and other life challenges.
The four-day fishing and culinary event kicked off on Thursday, Feb. 3, with a welcome celebration hosted by The Ritz-Carlton Fort Lauderdale. Guests were treated to outstanding wines by guest vintners and enjoyed food prepared by Ritz-Carlton chef Paula DaSilva on the pool terrace.
The charity fishing tournament allowed anglers to compete against celebrities, winemakers, and guest chefs. The boats took off from the Pier 66 Marina on Friday morning and ventured into the crystal waters off the coast of Ft. Lauderdale. The anglers fished for sailfish, white and blue marlin, dolphin, king mackerel, blackfin tuna, and yellowfin tuna. Sixteen fishing teams competed in the billfish division for the title of Tournament Champion, catching 30 sailfish over the two-day tournament.
During dockside weigh-ins, anglers and guests visited participating yachts featuring celebrated winemakers and tastes from the beneficiaries. Student chefs from Arc Culinary and Dan Marino Foundation worked alongside acclaimed chefs and vintners for an unmatched learning opportunity throughout the weekend.
The celebratory evening and auction took place on Saturday in the Grand Ballroom of The Ritz-Carlton. Chefs Emeril Lagasse, Tom Colicchio, Rick Moonen, Aarón Sánchez created the culinary delights, expertly paired by winemakers pouring exceptional selections. A highlight of the evening came when beneficiary students joined the four legendary chefs on-stage for a standing ovation from the crowd of over 200 patrons. "Without these young men and women up here and what they have contributed throughout this weekend, we could not have put on this outstanding event," said Chef Emeril. "They have put so much into learning and growing in our industry; they are our future."
Auction lots during the dinner included rare wines, luxury goods, lifestyle travel experiences, and winemaker dinners. The evening concluded with live musical entertainment by The Legendary Wailers.
"For the sixth year, Line, Vine & Dine brought together the very best of the sporting, wine, and culinary worlds to support the foundation's mission," said Brian Kish, president of Emeril Lagasse Foundation. "We are so proud to be able to give back to such deserving organizations, and we look forward to many more years serving the Fort Lauderdale community and beyond."
Sponsors for the weekend event included Worth Avenue Yachts, Costa, Harper+Jones, AIM Marine Group, Jimmy John and Leslie Liautaud, Greg Keller, Gunster, J.W. Didado Electric, PNC, Stiles, Monty's Sunset, Blue Angel, Soul Candy, Post Parade Wines/Toadfish Outfitters, and Shipt.