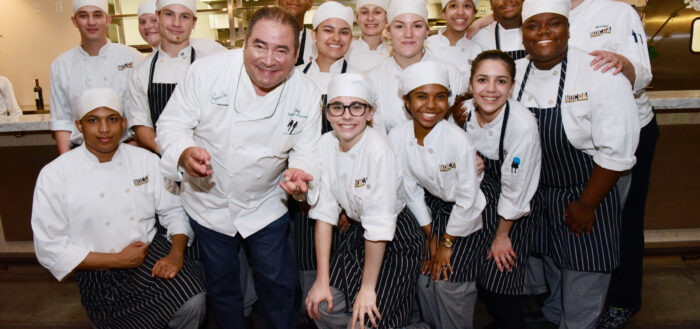 Looking Back on a Year of Giving
In 2018, Emeril Lagasse Foundation donated more than $2.2 million to 42 deserving children's charities that support our mission of inspiring, mentoring and enabling youth to reach their fullest potential.
As we approach the New Year, we are looking back on this record-breaking year of giving that has impacted thousands of youth across the nation and giving thanks to all who helped make it possible.
Kicking off the year with its spring fundraising events, the Foundation hosted the second-annual Line, Vine & Dine fishing tournament in February in Fort Lauderdale. The success of the weekend allowed the distribution of over $135,000 to local charities Arc Broward and Dan Marino Foundation, which are both dedicated to improving the lives of individuals with developmental disabilities and other life challenges.
The 12th annual Chi Chi Miguel Weekend in Santa Rosa Beach, Florida was held in April of 2018. The three-day BBQ cook-off and wine auction was a sold-out weekend with proceeds of more than $400,000 given to participating children's charities such as Alaqua Animal Refuge, Camille's Art for Autism, Children's Volunteer Health Network, Emerald Coast Children's Advocacy Center, Food for Thought Outreach, the Ingram Lee Foundation, Seaside School Foundation and Sinfonia Gulf Coast.
One of the highlights of 2018 was the launch of Emeril's Culinary Garden & Teaching Kitchen, a school-based culinary education program created to enrich the lives of elementary and middle school children through a fun, fresh perspective on food. The program fully integrates culinary gardens and teaching kitchens in schools as interactive learning environments. The program presented its first $500,000 grant to Seaside Neighborhood School in Florida, with other schools throughout the country under consideration.
Through its community grants program, the Foundation presented over $650,000 to non-profit organizations that further its mission. The 2018 beneficiaries include New Orleans-based Broad Community Connections, Café Hope, Einstein Charter School, Louisiana Restaurant Association's Education Fund, Second Harvest Food Bank, New Orleans Center for Creative Arts, Covenant House, Crescent City Schools, Edible School Yard Nola and the Youth Empowerment Project, as well as Georgia's Camp Southern Ground and California's The Ecology Center.
In addition, the Foundation supported two exciting capital campaigns in 2018. The New Orleans Culinary & Hospitality Institute will begin classes in January 2019 with the help of a $250,000 matching grant from the Emeril Lagasse Foundation. In Fort Lauderdale, the Foundation announced a $300,000 gift towards the Emeril Lagasse Foundation Innovation Kitchen for the Arc Culinary Expansion slated to open in April 2019 at Arc Broward. The Arc Culinary Expansion will feature a teaching kitchen, classrooms, a commercial and catering kitchen and more, supporting students with developmental disabilities and other life challenges transform their lives and build new futures.
To close out the year, the Foundation celebrated its 14th annual fundraising weekend in November. Together, Boudin, Bourbon & Beer and Carnivale du Vin raised more than $3 million that will provide funding for grants and beneficiaries through 2019 and beyond.
"We couldn't achieve this level of success without the generosity of the community and the Foundation's many supporters," said Emeril Lagasse Foundation President Brian Kish. "From our annual fundraising events to our grants program, we extend a huge thank you to all who've helped to propel our goal of making a difference in the lives of our youth."
As we celebrate the holidays and an incredible year of philanthropy, the Emeril Lagasse Foundation gives thanks for the countless hours of dedicated work and generosity that made 2018 one for the record books.
We look forward to an even more prosperous 2019 and encourage you to learn more about the causes we support here or make a year end gift here.