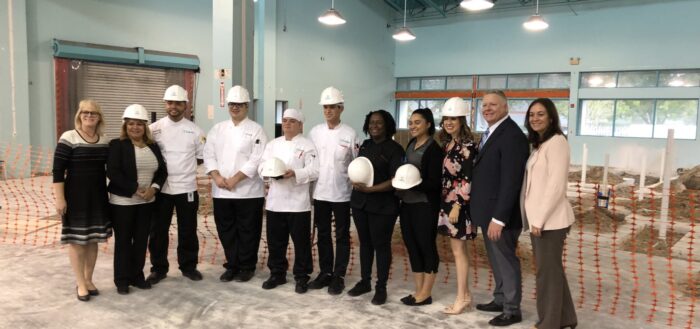 Emeril Lagasse Foundation Awards $300,000 Grant to Arc Broward's Culinary Expansion Project
Emeril Lagasse Foundation is proud to announce a $300,000 gift towards the Emeril Lagasse Foundation Innovation Kitchen for the Arc Culinary Expansion at Arc Broward in Fort Lauderdale. A special check presentation and unveiling of the kitchen rendering at Arc Broward took place on Thursday, December 13th.
"We are incredibly grateful for this partnership with the Emeril Lagasse Foundation. Thanks to their support we are bringing to life the dream of a state-of-the-art teaching and demonstration kitchen as part of the Arc Culinary Expansion." said Dennis Haas, Arc Broward President/CEO.
Arc Culinary, one of Arc Broward's social enterprises, provides quality, competitively priced catering services for a variety of occasions including weddings, parties and business lunches. The revenue generated through the nonprofit catering business goes directly to support the culinary institute job placement program, helping students with disabilities and other life challenges transform their lives and build new futures.
"Since the Emeril Lagasse Foundation has expanded its footprint into the Fort Lauderdale community, we've seen the direct, life-changing impact that Arc Culinary has on its students with developmental disabilities," said Brian Kish, president of Emeril Lagasse Foundation. "We couldn't be more honored to make this gift that will establish the future Emeril Lagasse Foundation Innovation Kitchen — a place that we believe will foster a compassionate and encouraging learning environment for some of the community's most deserving residents."
The Arc Culinary Expansion is expected to open in April 2019. In addition to the Emeril Lagasse Foundation Innovation Kitchen, the build-out and equipping of approximately 8,000 square feet on the Arc Broward Regional Campus will include a commercial and catering kitchen, teaching kitchen, classrooms, cooking and preparation areas, storage, and advanced technology. It is part of a $5 Million Dollar Capital Campaign the organization began in 2015 to increase the number of students in the Culinary Arts Entry Level Certificate Program, as well as allow for growth in the catering and contract meal business lines.