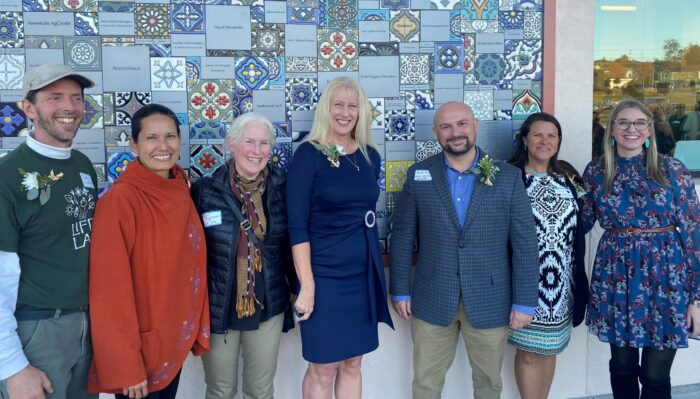 Partner Spotlight: Life Lab
Much like tending to a community garden, Emeril's Culinary Garden & Teaching Kitchen grows through a community of experts and supporters. Life Lab is a national leader in the garden-based learning movement. Early on, we identified that this organization was just the right partner to help create our unique in-depth program. 
As we continue expanding the number of students and schools with access to Emeril's Culinary Garden & Teaching Kitchen, Life Lab's vital assistance as our school training partner has shaped the impact we are making nationwide. We recently had the opportunity to speak with co-executive directors Don Burgett and Judit Camacho about the organization's work with the Emeril Lagasse Foundation. 
About Life Lab
Started in 1979 by a small group of inspired teachers, Life Lab now draws on more than four decades of work with young people in gardens to lead the nation in a garden-based learning movement. Don and Judit now head this effort to spread a love of learning and appreciation for food and garden-based education. 
Throughout his life, Don has made great strides in the name of nature and has helped to uplift those around him through the healing power of food. A master gardener, Don has completed environmental justice work to protect the rainforests, served as a community organizer and proponent for gardens in Los Angeles, and supported federal policy work to initiate USDA programs around organic farming.
His work has since led him to Santa Cruz, where he has served as Life Lab's co-executive director since 2011 and alongside Judit since 2019.
Growing up in the beautiful mountains of Jalisco, Mexico, Judit has always felt a deep connection to nature. "I felt very connected to the earth," Judit shared. "(and after moving at age six) the rest of the world seemed really big." 
Years of study, service and accomplishments later, her work with Life Lab has reintroduced her to that child-like wonder. "Now, the rest of the world seems big as I'm getting reconnected to the incredible universe of the land." This connection between nature and culture has guided Judit's more than 20-year career serving nonprofits. 
The Perfect Ingredients
The concept for Emeril's Culinary Garden & Teaching Kitchen was formalized in 2016 and the Foundation quickly began identifying thought partners and experts to work within the field of school-based food education programs. At the top of the list was Life Lab but it took some convincing before we began working together.
"When (the Emeril Lagasse Foundation) first contacted (Life Lab), we said, 'You know, I actually think we do more science than cooking. I think you should contact a few other folks," shared Judit. Over time, and several conversations later, they realized Life Lab indeed was a perfect fit because garden and cooking education are two sides of the same coin when it comes to food education.
This beautiful partnership resulted in the development of a robust K-8 gardening and cooking curriculum that is aligned with national academic standards. 
"There's that great moment of partnership with helping the Foundation build out its curriculum and then to train on it, which has been so beautiful over the years," Don said.
During our conversation, he shared that working alongside the Emeril Lagasse Foundation in the development and now the expansion of Emeril's Culinary Garden & Teaching Kitchen has inspired Life Lab to look at its own practices and recommit to serving its partners as the best support organization it can be. 
Piloting Growth
This year, Emeril Lagasse Foundation and Life Lab will strengthen its partnership even more as Life Lab pilots Emeril's Culinary Garden & Teaching Kitchen in nine elementary schools in the Pajaro Valley Unified School District (home to Starlight Elementary School, one of the Foundation's existing signature program school sites). 
With our latest collaboration at Starlight Elementary to expand the reach of the program, we hope to pass on this success to an all-new wave of participating schools. "We really want to inspire children to think scientifically… how to observe, explain, hypothesize and test their own ideas," said Judit. "We want to cultivate the joy of learning, both for children and for ourselves too, because that's how we can inspire children to do the same." 
We are inspired by the passion of the Life Lab team and cannot wait to see the incredible fruits this partnership continues to yield for years to come.