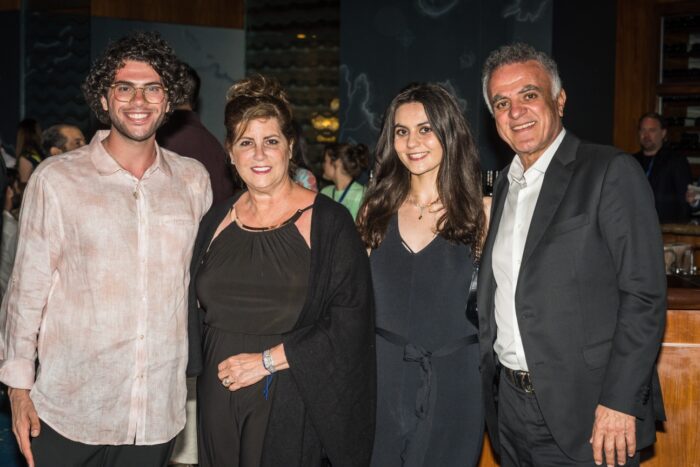 Partner Spotlight: Paramount Caviar
At Emeril Lagasse Foundation, love and respect for food are a driving force behind the success of our mission. They are taught in our classrooms and shared in our meals. This same principle can be found meticulously packaged into each delicious morsel distributed by Hossein Aimani and Amy Arrow-Aimani family, owners of Paramount Caviar.
A Fateful Meeting
It was a summer day in 1988 when Hossein Aimani and Amy Arrow-Aimani found themselves working booths on opposite sides of the aisle at the New York Fancy Food Show. At the time, Hossein was building his caviar expertise for another brand. Meanwhile, Amy represented her luxury chocolatier Neuchatel Chocolates.
Busy hours would pass as the two worked the show, but by the end of the night, the unplanned duo would find themselves dining with the love of their lives. From there, history was set in motion, and three years after that fateful meeting, Paramount Caviar was born in 1991. Today, this culinary couple is joined by daughter Ariana and son Armaan, who are learning the ropes in the family business.
In the years to follow, Paramount Caviar has cemented itself as the leading authority in its craft with a legacy centered around the appreciation for caviar. This delicacy is more than just a luxurious hors d'oeuvre. In the eyes of Paramount, "Caviar should be a celebrated experience," and lovers of the dish will be thrilled to know it can be found at award-winning restaurants throughout the U.S., including those owned by our very own Chef Emeril Lagasse.
Sharing Culinary Love Within Our Community
Since joining forces with Chef Emeril's restaurants in 2020, Paramount Caviar has become a vital supporter of the Emeril Lagasse Foundation. The group has been involved with the successes of Foundation events, including donating exquisite products for Line, Vine & Dine and Carnivale du Vin. Here, student interns from the Foundation's beneficiary organizations have the opportunity to serve guests alongside industry leaders like the Aimanis.
While speaking with Ariana, she shared why funds raised through the Foundation to support culinary arts training are crucial today, stating, "It's such an applied and holistic way to get people involved."
"It's important that we dedicate our time to these types of projects," Ariana continued. "This is so foundational. This is how our industry continues – we can create jobs and opportunities for people interested in culinary and hospitality careers."
She shared that her company appreciates that Emeril Lagasse Foundation sparks creative energy and diversity in the hospitality field. "It's really just a great endeavor to be part of together," Ariana said.
Caviar For Good
We're honored to receive a charitable donation from Paramount Caviar for every gift purchase of Chef Emeril Lagasse's Caviar Collection.
"When my parents started the business, they identified important children's causes and educational causes as charity pillars," Ariana shared. "Emeril Lagasse Foundation's philanthropic giving is done in a way that is so caring, so nurturing.  It really gets people involved in this industry in a pure and applied way."
Ariana went on to describe why working with the Foundation is so exciting for their group, "For us, it's a big deal knowing someone as impactful and iconic as Chef Emeril is taking the time to foster the community by building opportunities and programs that provide something that not only helps people today but their future selves as well."
Visit ParamountCaviar.com to learn more about Paramount and purchase your own Chef Emeril Lagasse's Caviar Collection kit.