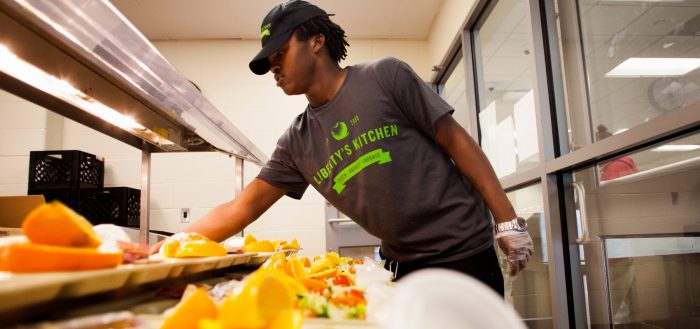 Providing Opportunity through Food
Liberty's Kitchen uses New Orleans' restaurant industry to provide jobs and hope.
When Liberty's Kitchen opened in 2008, founder Janet Gorence Davas chose a location across the street from a New Orleans courthouse. It was not coincidence. Davas wanted a visible counterpoint to the prospect of incarceration. She envisioned a place where young adults who had been neglected or criminalized could get a hot meal, a job opportunity and support.
Twelve years later, there are now two dine-in locations, a catering business and several community food-access projects. More than 800 young people have passed through Liberty's Kitchen's doors. Despite facing extraordinary challenges to employment and education, they've gone on to a plethora of careers, and many now serve as leaders and mentors for other young adults in need of support.
Our work is relationship based. We believe very strongly that you have to give people hope and show people there is opportunity for change. Change is possible and they're not alone in it, says Michelle Mathew, Liberty's Kitchen Development Director.
Hard work is at the heart of change. Liberty's 12-week program teaches participants all facets of a restaurant – front- and back-of-house operations, as well as customer service skills. For their last three weeks, students work offsite in an externship with partner restaurants for real-world experience and mentoring.
Coronavirus challenge
When COVID-19 hit New Orleans earlier this year, Liberty's Kitchen administrators worked from home, while the programs team kept in touch with trainees and graduates from 2016 on – a total of about 200 people. The programs team also provided support in accessing food, stable housing, filing for unemployment, health insurance and other needs.
Meanwhile, Liberty's Kitchen opened its space to other food- and nutrition-focused organizations, such as No Hunger NOLA. The commissary kitchen provided space for storage, assembling meals and coordinating meal service.
Top Box Foods Louisiana, the Recirculating Farms Coalition and Market Umbrella joined the effort, delivering farmers' market produce directly to residents' homes. In addition, the Emeril Lagasse Foundation provided 40 meals a week. which were incorporated into produce boxes.
Racial equality as a core value
As current events and global attention on racial justice continue, Mathew sees the current conversation perfectly suited for Liberty's Kitchen's mission, which places racial equity at its core.
A significant part of Liberty's Kitchen's training program focuses on advocacy. Organizations like VOTE New Orleans and Southeast Louisiana Legal Services visit Liberty's Kitchen to inform trainees about their legal and civic rights, the importance of registering to vote and how to register.
The people we work with are young adults who face inequality every day," Mathew says. "Informing young people about facing these barriers that they know all too well is how we can contribute to the change.
Anti-hunger programs throughout the city play a major role in the discussion over racial justice. Mathew describes a renewed spirit of unity among its partners like MiNO Foundation, Grow Dat Youth Farm and Beloved Community, all of which focus on different aspects of food access, culinary education and business opportunity.
For Liberty's Kitchen, this is an opportunity to highlight the work we can do with our partners. We see that as an exciting time in the midst of all of this to move forward with our work. It's uncomfortable but necessary work.
Emeril Lagasse Foundation is proud to support Liberty's Kitchen in its mission to provide pathways for New Orleans young people to create and achieve their vision of success.