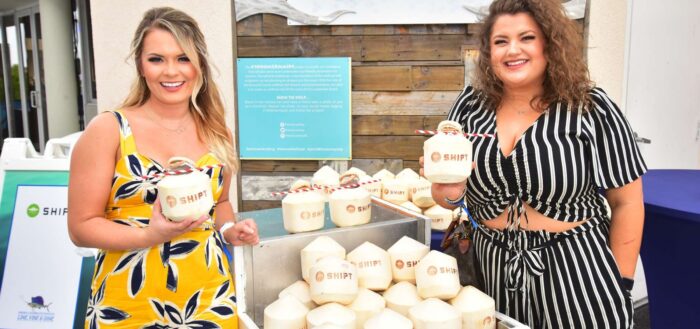 Donor Spotlight: Shipt
Delivering Support to Those in Need
Fundraising is a crucial part of Emeril Lagasse Foundation's efforts and essential to achieving its mission. A large part of funding for the Foundation's programs is raised through the success of its annual fundraising events, and it relies heavily on the support of sponsors. Shipt is one of the generous corporate donors who has made a commitment toward the continued success of the Foundation by sponsoring its fundraising events.
When Shipt was founded in 2014, its mission was to simplify lives by offering curated, personalized shopping and delivery services through a convenient and easy-to-use app. Their mission has since expanded to include a focus on healthy habits, including support for organizations, like Emeril Lagasse Foundation, that are dedicated to teaching the importance of nutrition and connecting food to healthy living at an early age.
Shipt is dedicated to ensuring children and their families have access to the resources and food they need, and the Emeril Lagasse Foundation programs help do just that," said Lauren Collins, Director of Shipt Community Partnership. "We are so moved by the work they do to serve the underserved, so we continue to donate to ensure they are able to inspire the next generation of bright and driven minds!
Shipt originally became a sponsor of Boudin, Bourbon & Beer in 2018. The excitement of the weekend and the foundation's mission in action inspired Shipt to increase support of future events. Each year since, they have brought exciting activations to the guests at Foundation events.
In 2020, Shipt contributed to Line, Vine and Dine, the Foundation's charity fishing tournament in Fort Lauderdale. The event raised over $900,000 for local charities including ARC Broward and Dan Marino Foundation who provide culinary and hospitality training to young people with developmental disorders and other life challenges. Throughout the weekend, students from Arc Broward and Dan Marino Foundation participated in the events, working alongside sponsor activations to assist local chefs in meal prepping and serving.
At Shipt, building community is a passion that drives everything, from how to serve their members to fulfilling their philanthropic goals. It also influences how they serve their members. The community of Shipt Shoppers are carefully vetted and trained to go above and beyond, communicating in real-time about preferences and substitutions so that members get exactly the items they want. They are committed to helping families get the food they need, no matter the circumstances.
Even as the world faces many uncertainties, Shipt remains committed to supporting organizations like Emeril Lagasse Foundation. They continuously strive to look for new and creative ways to inspire and mentor the next generation. To learn more about Shipt, please visit Shipt.com .
The Emeril Lagasse Foundation is endlessly grateful for the continued support of donors and corporate partners, like Shipt, who help move our mission forward year after year. Learn more about how you can get involved or make a donation by visiting our Get Involved page.