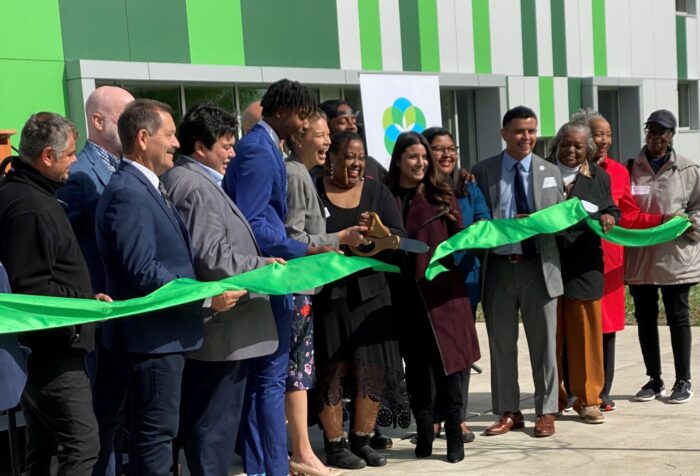 School Partner Spotlight: Sarah Elizabeth Ippel of AGC
With a commitment to holistic education, the Academy for Global Citizenship (AGC) was founded in 2008, and has since established itself as a transformative school in Chicago, IL, intent on making a difference one student at a time. Situated within a community that has long faced educational and health challenges, AGC provides a whole-child learning experience to meet the diverse needs of its primarily minority student body.  Its innovative approach incorporates an enriching International Baccalaureate curriculum, dual language immersion, and extended learning and wellness opportunities.
Not long ago, we joined AGC for a ribbon-cutting ceremony at its newly constructed facility and school campus located on  a six-acre site in the Southwest side of Chicago. This revolutionary space now serves AGC students in grades Kindergarten through 8th grade and includes an Early Childhood Center, a three-acre urban farm, and a Health Care Center.  The school's impact is further amplified by its five teaching kitchens and a large indoor demonstration kitchen. These spaces not only host daily cooking lessons for students but also extend their resources to families and community members, promoting the preparation of whole foods and fresh produce sourced directly from the on-site farm and fresh foods store. AGC's dedication to integrating experiential learning opportunities, family engagement, physical and mental health initiatives, and innovative educational methods led to  our excitement in 2022 to welcome them as our sixth school partner for Emeril's Culinary Garden & Teaching Kitchen. 
Today, we share AGC's  enthusiasm as they begin implementing  our program and curriculum on their new campus. Recently, we connected  with Sarah Elizabeth Ippel, founder and executive director of AGC, about the importance of  Emeril's Culinary Garden & Teaching Kitchen  in their school community.
When first asked what prompted AGC to want to become a school partner for Emeril's Culinary Garden & Teaching Kitchen, Ippel shared, "The extraordinary alignment of missions between AGC and Emeril Lagasse Foundation was key. We share a deep commitment to empowering children and young people with the lifelong knowledge and skills they need to thrive in the future."
Inspired by her studies abroad during graduate school, leading her to explore education in over 100 countries throughout the world, Ippel is dedicated to making a systemic impact through her work at the Academy for Global Citizenship.
"I feel a sense of urgency around how we're educating this next generation, to be equipped with a broader set of skills  to navigate our ever-changing world. Establishing these connections between positive nutrition and learning  is so fundamental, particularly given the challenges and inequities that we're experiencing in our country," Ippel said.
She believes you can teach anything through food, a sentiment we share and one that fuels Emeril's Culinary Garden & Teaching Kitchen nationwide.
"You can teach everything in the kitchen: math, literacy, science, design thinking, and history, which is why we have a teaching kitchen in every one of our learning villages. It's such a beautiful way to learn through a hands-on and  experiential approach that we take here at the Academy for Global Citizenship."
Kris De la Torre, director of sustainability and wellness, along with Ippel and some other members of the AGC team, have been hard at work to ensure the program is successfully implemented at the school.
"Our participation in Emeril's Culinary Garden & Teaching Kitchen has already generated such joy and momentum. We began using the  curriculum to start our growing season and students are excited to cook with the incredible amount of kitchen tools and equipment from the Foundation " De la Torre said.
The team at AGC is excited to see how Emeril's Culinary Garden & Teaching Kitchen will influence the school in the future and provide valuable skills to their students, while also serving as a model for what's possible in public education. 
"We know there's a world of opportunity ahead of us as we shovel compost into our new garden beds and work toward scheduling our first teacher training for Emeril's Culinary Garden & Teaching Kitchen. We are grateful for the incredible generosity of Emeril Lagasse Foundation" continued De la Torre.
The dedication of Ippel and the team at the Academy for Global Citizenship serves as an inspiring example of how innovative educational initiatives can effectively equip today's youth to confront the challenges of our modern world within their local communities, while also cultivating a healthier generation..