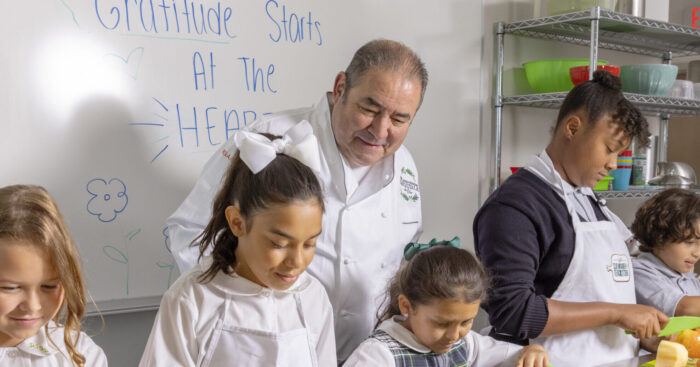 Emeril Lagasse Foundation Celebrates Humana Foundation Grant to Foster Health and Nutrition Education
Emeril Lagasse Foundation is honored to be a recipient of a grant from Humana Foundation, marking a new chapter in our commitment to enriching the lives of children through innovative nutrition and culinary education. This $75,000 grant will allow the foundation to invigorate our efforts to bring our signature program, Emeril's Culinary Garden & Teaching Kitchen, to more schools and communities.
The Humana Foundation recognizes the critical role of early education in shaping healthy, connected lives. This grant will specifically bolster our signature program in New Orleans, impacting 1,500 students and their caregivers. Through the introduction of gardens, grow kits, and nutritional education, we are set to deepen the understanding and appreciation of healthy food choices among school-aged children.
Rooted in Chef Emeril Lagasse's vision to empower children through food, Emeril's Culinary Garden & Teaching Kitchen is more than just a program—it's a movement toward a healthier future. Our approach integrates gardens and teaching kitchens into school curriculums, transforming them into vibrant, interactive learning environments. Here, students not only learn about the origins of their food but also acquire the skills to prepare nutritious meals, fostering a sense of independence and self-confidence.
Looking ahead, this grant allows us to pilot an evaluation study of the program's outcomes, providing critical insights for expansion. Our immediate focus is on our two school partners in Greater New Orleans, with an eye toward extending our nationwide reach.
We are immensely grateful to the Humana Foundation for its support and shared commitment to nurturing healthier communities. This grant not only fuels our mission but also aligns perfectly with our goal to instill the values of healthy eating in children, particularly those living in poverty. Together, we are paving the way for a future where every child has the knowledge and tools to lead a healthy, fulfilling life.
Photo Credit: Cedric Angeles