We all share a passion for helping children realize their full potential.
Giving kids the knowledge and tools to grow and become their best selves is our true purpose. That's why we created a signature program that allows us to make a direct, lasting impact on the lives of young people. Emeril's Culinary Garden and Teaching Kitchen reflects our mission to inspire, mentor and enable youth while broadening our reach nationally.
Alden and I wanted to reach and impact kids in a positive manner, and we knew the best way to do that was through food.

Emeril Lagasse
By integrating gardening and cooking concepts in school curriculums, we offer an engaging experience that connects kids to the world of food and nurtures skills that benefit them not only in the kitchen but also throughout life. Through a growing network of like-minded schools, Emeril's Culinary Garden and Teaching Kitchen enriches the lives of kids through a fun, fresh perspective on food.
The Four Pillars
Appreciation for the source of food

To instill in children a respect for and understanding of the source of their food.

Development of Life skills through food

To develop life skills, confidence and a sense of respect in children through the rigors of growing and preparing food.

Nutrition Education

To import the values of healthy eating in children, who in turn can influence their families and community to adopt healthy lifestyles.

Development of Culinary Skills

To teach culinary skills to children to enable them to cook for themselves, enriching their self-reliance skills.
How to Apply
Applicant must be a 501c3 K-8 public, private or charter school. Consideration will also be given to a school foundation applying on behalf of a non-profit K-8 public, private or charter school if the foundation exists solely to benefit and support the named school on the application.
Interested Schools should submit a letter of interest to Emeril Lagasse Foundation demonstrating its willingness and ability to implement Emeril's Culinary Garden & Teaching Kitchen. Upon consideration, the foundation will contact qualified schools with further application instructions. Unsolicited applications will not be accepted.
Learn More
School Partnerships
As a school-based program, Emeril's Culinary Garden & Teaching Kitchen is implemented in elementary and middle schools around the U.S, with a preference for schools serving middle to low income students from rural, suburban and urban areas.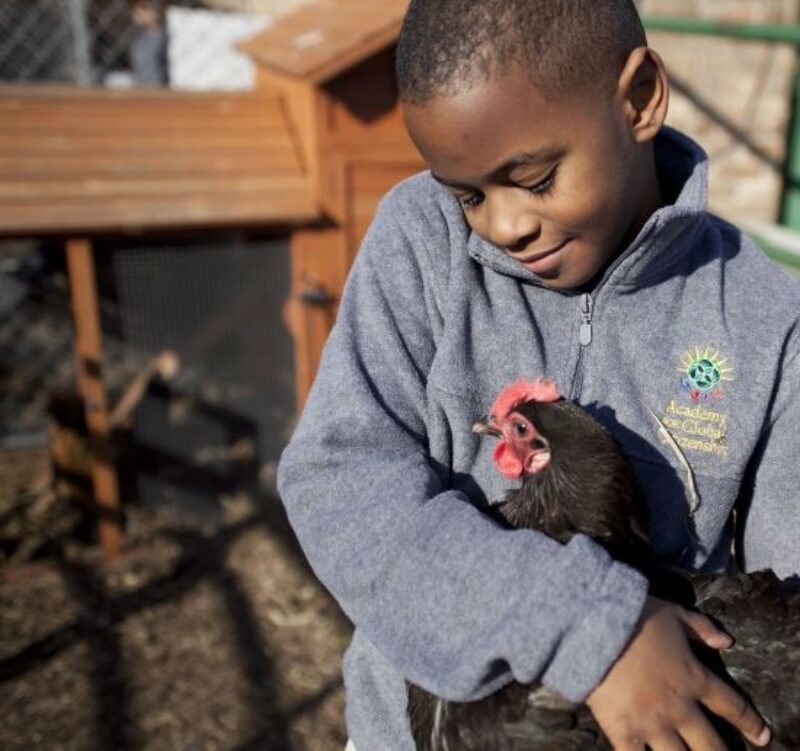 Academy for Global Citizenship
Chicago, IL
The Academy for Global Citizenship (AGC) is a K-8 Chicago Public Charter School located on the underserved Southwest side of Chicago. Founded in 2005, AGC is addressing Chicago's educational, environmental, and racial healthcare inequities where it serves 96% minority constituents. With the goal of providing opportunity for children and families in the most under-resourced neighborhoods, AGC utilizes an innovative, whole-child learning model rooted in social justice, environmental education, entrepreneurship, and dual language wellness opportunities. Emeril's Culinary Garden & Teaching Kitchen at AGC will be housed at the school's new net-positive energy campus alongside a health care center, urban farm, community wellness hub and early childhood center.
Belle Chasse Academy
Belle Chasse, LA
Belle Chasse Academy (BCA) is a pre-K through eighth grade public charter school serving over 900 military dependent children from the five parishes of Greater New Orleans.
Emeril's Culinary Garden & Teaching Kitchen at BCA will allow the school to expand its current gardening program, renovate the existing culinary classroom, complete its hydroponic lettuce system, develop the school's vegetable production garden, and build an outdoor culinary learning center that will serve as the heart of the school's infrastructure.
Cunningham Elementary School
Austin, TX
Cunningham Elementary School is a pre-K through fifth grade public charter school within Austin Independent School District serving over 400 students with diverse backgrounds.
Emeril's Culinary Garden & Teaching Kitchen at Cunningham Elementary will allow the school to enhance its current gardening program and renovate one of the school's existing classrooms into a 1,500-square-foot teaching kitchen. In this space, students' imaginations and minds will be activated when they interact with the food they have grown using the program's curriculum which features more than 100 of Chef Emeril's recipes modified for the classroom
DC Bilingual Public Charter School
Washington DC
DC Bilingual Public Charter School offers an innovative, dual immersion, Spanish and English learning program for all students, regardless of their home language. Through its rigorous academic curriculum; comprehensive arts, food and wellness, and family engagement programs; and celebration of diverse cultures, DC Bilingual students learn the skills and values they need to become influential members of their community.
As ranked by the DC Public Charter School Board (DC PCSB), DC Bilingual is a Tier 1 school serving 453 pre-K through grade 5 students. At the core of DC Bilingual 's school culture is an emphasis on the value of learning within a diverse community.
Dr. John Ochsner Discovery Health Sciences Academy
New Orleans, LA
Dr. John Ochsner Discovery Health Sciences Academy (DJOD) is a pre-K through eighth grade public charter school serving Jefferson Parish in Greater New Orleans. DJOD provides students with a high-quality education that empowers students to make healthy and sustainable choices for themselves and their environment. Emeril's Culinary Garden & Teaching Kitchen at DJOD will expand on its program to provide hands-on learning in a newly constructed teaching kitchen and outdoor culinary classroom and vegetable garden. Students will enjoy experiential learning through the program's culinary curriculum and maintaining a vegetable garden.
Starlight Elementary School
Watsonville, CA
Starlight Elementary School serves 600 students in a late-exit bilingual model from Transitional Kindergarten to 5th grade in Pajaro Valley Unified School District (PVUSD). Agriculture and related industries comprise the heart of our local economy with globally renowned companies such as Martinelli's, Driscoll's and Lakeside Organic Gardens calling Watsonville home. In fact, many of our students are the children of farmworkers who grow, harvest and package the food that feeds our region, the nation and the world. Honoring the work of our families and community through Emeril's Culinary Garden and Teaching Kitchen (CGTK) will be transformative for all involved as we expand the well-established garden and cooking education program at Starlight.
Acknowledgements
Thank you to our thought partners and sponsors who support Emeril's Culinary Garden & Teaching Kitchen