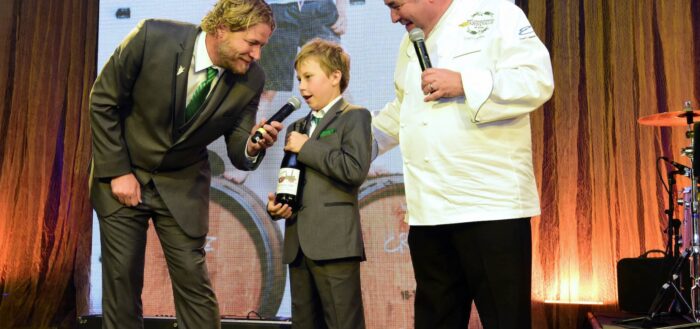 Cruz's Corks for Kids
Please join Emeril Lagasse Foundation & Cruz Bilbro to Make a Difference
Last month's Carnivale du Vin was a very special evening filled with great food and outstanding wines, but one of the most touching moments of the night was a very special campaign kicked off by 10-year-old Cruz Bilbro. He along with Chef Emeril have set a goal to raise $500,000 for the Emeril Lagasse Foundation's efforts.
Cruz is the son of Jake Bilbro, recognized winemaker of Limerick Lane and friend of the foundation. Cruz asked to make a barrel of wine with his dad's special grenache grapes in an effort to help his friend Chef Emeril raise money to inspire, mentor and enable youth. Jake agreed and told his son that he had to do all the work from harvest to crush to bottling. Cruz took on the challenge and even created the wine label himself.
Months later, Cruz and his family traveled to New Orleans for the Foundation's 14th annual Carnivale du Vin, where Cruz's Corks for Kids debuted as one of the 24 lots at the nationally ranked live auction. On the night of November 10, Cruz bravely took the stage alongside his father and Chef Emeril, where he proudly displayed his wine and the heartfelt campaign behind it.
A highlight of the evening, Cruz asked the 600-person audience to make a charitable gift in support of the Foundation. For every $2,500 a guest donated, Cruz would give one of his special bottles as a thank you. It was an emotional moment for all present but most especially for Chef Emeril. The generosity in the room was incredible as they kicked off this campaign by raising over $300,000 that evening.
On behalf of Cruz Bilbro and Chef Emeril, we ask you to join in this effort to make a difference in the lives of youth through culinary, nutrition and arts education programs. Please consider investing in Cruz's Corks for Kids by making a charitable contribution. As Cruz's way to say thank you, he will send you one of his special bottles for every $2,500 that you give.
Your gift at any level can make a difference. Together, we can hit the $500,000 goal allowing Emeril Lagasse Foundation, with the support of our friend Cruz, to positively impact youth in our communities.
To donate to Cruz's Corks for Kids, click here.