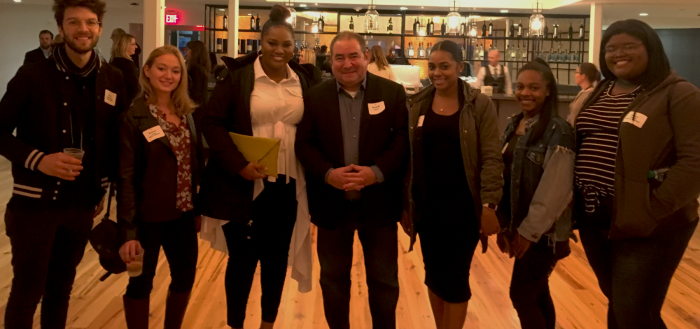 New Orleans Culinary & Hospitality Institute (NOCHI) Celebrates Giving Tuesday with Emeril Lagasse Foundation Announcing $250,000 Pledge
Celebrated New Orleans Culinary Legend Challenges New Orleans Hospitality Community to Raise Funds for City's Premier Culinary Training Institute
Staff, board members, and donors of the highly anticipated New Orleans Culinary & Hospitality Institute (NOCHI) offered a sneak peek yesterday of the state-of-the-art facilities and were joined by New Orleans culinary legend Chef Emeril Lagasse. During the event, he and the Emeril Lagasse Foundation announced a Giving Tuesday matching grant for the nonprofit culinary school.
In celebration of the holiday, and ahead of classes starting in January 2019, the foundation made a pledge to match contributions dollar-for-dollar, up to $250,000 from any individuals or organizations from the hospitality community in support of New Orleans' premier culinary training institute.
"The tradition of food and hospitality has been a focal point of New Orleans for 300 years and is synonymous with our city's culture and spirit. Our restaurants are institutions. Our celebrations and traditions hinge upon food: it is at the forefront of our city's makeup," said chef Emeril Lagasse. "We're proud to support such a world-class institute that is committed to fostering culinary talent and hospitality leadership in our youth, and to recommitting to a craft that is so essential to our community."
The private event was held for donors, board members, VIPs, and members of NOCHI staff at the new 90,000-square-foot, five-story campus. The school includes five dedicated teaching kitchens, a beverage lab for wine and spirits programs, a retail café space on the ground level, separate classroom and office spaces for NOCHI and Tulane University, an event center, rooftop terraces overlooking views of downtown New Orleans, and more.
"NOCHI is thankful for the ongoing support from both Chef Emeril Lagasse and his generous foundation. This pledge and matched donations will be a game changer for the launch of our institute," NOCHI Executive Director Carol Markowitz said. "This has been a passion project for us for the past five years, so we're excited to finally open our doors to the community."
NOCHI will open its doors January 2, 2019, with NOCHI and Tulane University programs both launching throughout the month of January in its newly renovated facility.
A key component of NOCHI's operations will be programming designed to not only garner and develop culinary talent within its students, but also drive culinary tourism for New Orleans and enrich the local community through engaging learning experiences. Locals and visitors alike will be able to immerse themselves in a wide variety of seminars and classes ranging from Knife Skills 101 to New Orleans Cocktails.
To contribute to this effort or for more information on NOCHI, visit www.nochi.org.
About New Orleans Culinary & Hospitality Institute (NOCHI)
NOCHI's mission is to provide a seat at the table for all people seeking to develop their culinary passion–not just aspiring professionals, but locals and visitors from around the world who want to study the techniques to great cooking and the elements that have defined New Orleans' unique brand of hospitality. For 300 years, New Orleans has turned out some of the most beloved flavors, restaurants and chefs. NOCHI believes the city's rich culinary heritage and culture makes the perfect setting for an institute where the next generations of talent and leadership for the industry will be developed. For more information on its opening, facility, and classes, please visit www.nochi.org.