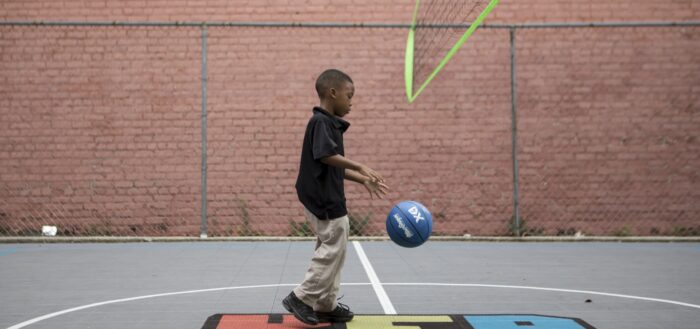 In the Wake of Coronavirus, YEP Meets Critical Needs for New Orleans Youth
Youth Empowerment Program (YEP) is the Greater New Orleans region's largest, most comprehensive organization addressing the needs of vulnerable youth, annually serving more than 1,200 young people who are out of school, work or have experienced significant trauma. YEP services are divided into four categories: mentoring and youth advocacy, adult education and high school equivalency preparation, employment readiness and out-of-school-time programming. All were developed in response to specific community needs and YEP's core mission of empowering young people.
YEP has been a beneficiary of Emeril Lagasse Foundation since 2013. Grants to YEP have supported its YEP Enriches program, which includes: YEP's Afterschool program, Summer Camp and Camp Mariposa. All three programs are free of charge and provide year-round enrichment opportunities to children between the ages of 7-18.
YEP's mission is immeasurably more critical in the wake of COVID-19 and the pandemic's economic fallout. Nearly 80% of YEP participants live in households that report less than $20,000 in annual income and 74% live in single-parent homes.
Director of Development and Communications Michael Emmert-Kantor says YEP's staff recognized the added pressures of the pandemic and acted quickly. With the help of flexible grants from organizations like Emeril Lagasse Foundation, YEP made adjustments to ensure the safety of participants and staff, and that services continued.
High school equivalency instruction moved online and staff mentors have kept in touch via telephone and video. The staff organized daily homework help and physical education classes on Zoom, and its workforce development staff has continued connecting out-of-work participants with companies that are hiring.
The YEP staff also began sending customized care and aid packages for youth and their families, and helped families apply for social services like food stamps and unemployment benefits.
Foundation partners allow us to ensure that young people in the Greater New Orleans region have access to the opportunities, resources and relationships they need to achieve their potential," he says.
With restaurants closed and everyone at home, healthy cooking is important as ever. YEP's music and arts coordinator, Ms. Nakita, made her weekly cooking club meetings available on Zoom. In response, the YEP staff prepared 25 baskets of fresh ingredients and recipes for tasty meals like jambalaya, omelets and flatbread pizza. The baskets were delivered to participants who used video conferencing to follow along with Ms. Nakita's lessons.
It's refreshing to bring love and joy through cooking during these difficult times, but the best part is getting to eat together," Ms. Nakita says.
Early in the quarantine, YEP realized many participants could not take part in distance learning because they did not have access to the right technology. Many YEP participants relied on schools, community centers or public libraries for access to tools like laptops and internet.
With donors' generosity, YEP collected and distributed 25 laptops and hotspots for participants. The donation was key, enabling participants to continue their education, enrichment activities and developing job skills. Emmert-Kantor says technology needs will increase in the coming months.
We expect that even more individuals and families will need our mentoring, education, employment readiness and enrichment services. Continued support from local foundations is critical to a strong and sustained response to the ongoing challenges and inequities exposed by the pandemic.
But Emmert-Kantor cautions that the need has just begun rising and that continued support from the New Orleans community is critical.
You can sign up for YEP's newsletter, or shop at the YEP bike shop and thrift store on Oretha Castle Haley Boulevard in Central City. To learn more about Emeril Lagasse Foundation COVID-19 relief efforts, click here.
Together, we can empower young people to improve their lives and the lives of others," Emmert-Kantor says.