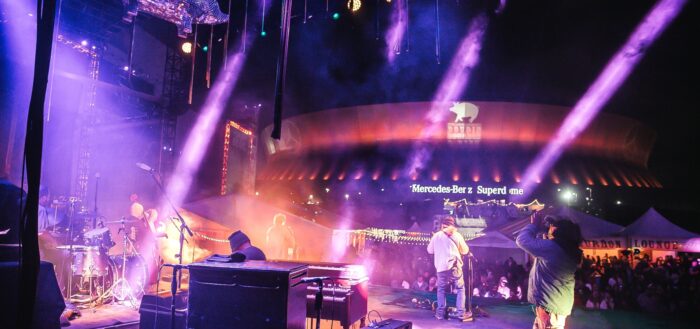 Emeril Lagasse Foundation Raises $3 Million During 14th Annual Fundraising Weekend
Funds raised benefit children's charities throughout the Gulf region
The Emeril Lagasse Foundation celebrated its 14th-annual fundraising weekend on Nov. 9 and 10 in New Orleans, raising $3 million for children's charities.
The eighth-annual signature outdoor food and music festival Boudin, Bourbon & Beer brought together more than 70 of the country's best chefs for an evening of Louisiana-inspired culinary celebration in Champions Square. The following night, the Foundation hosted its 14th-annual Carnivale du Vin, the nationally recognized wine auction and gala dinner held at the Hilton New Orleans Riverside.
"My wife Alden and I are continually grateful for the support from the community and the wonderful generosity of our donors, including the sponsors, chefs and winemakers over the past 14 years. We couldn't do it with without them," said Chef Emeril Lagasse. "Money raised from this incredible weekend of giving allows us to support children's charities that are truly making a difference in the lives of our youth."
Nearly 4,000 people attended Boudin, Bourbon & Beer and enjoyed craft brews from Abita Beer; bourbon cocktails from Buffalo Trace; musical entertainment from top artists including Railroad Earth, Donavon Frankenreiter, Lillie Mae and Honey Island Swamp Band; as well as samplings of boudin-inspired dishes from local and visiting chefs.
Carnivale du Vin featured the best in wine and food with culinary greats Traci Des Jardins, David Kinch, Masaharu Morimoto and Jacques Torres. Over 600 guests experienced a five-course meal created by Emeril Lagasse and New Orleans Center for Creative Arts culinary students. Assisting in meal plating and serving were graduates and interns from hospitality training programs at Liberty's Kitchen, Café Reconcile, Café Hope and Louisiana ProStart.
As the Foundation continually works to help youth reach their fullest potential, funds raised from the annual fundraising weekends over the years have opened doors for a new opportunity to benefit children throughout the country. The Foundation recently launched its signature program. Emeril's Culinary Garden & Teaching Kitchen is a national education initiative created to enrich the lives of elementary and middle school children through a fun, fresh perspective on food.
"From beginning to end, this weekend is all about the kids," said Emeril Lagasse Foundation President Brian Kish. "We're so thankful for the community for supporting our efforts to better the lives of youth and grow the next generation of culinary leaders."