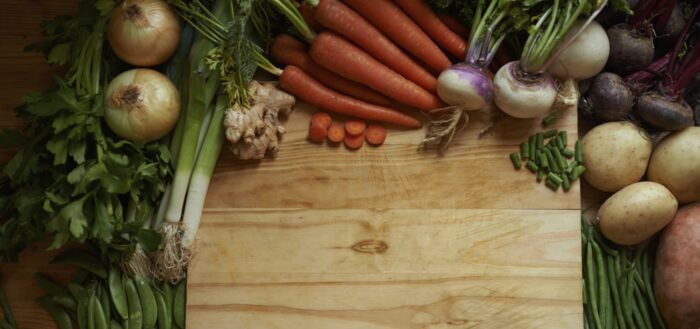 Emeril's Culinary Garden & Teaching Kitchen Partners with GoodCook to Equip Students with Classroom Culinary Tools
GoodCook provides kitchenware to schools selected for Emeril Lagasse Foundation's signature program
Emeril Lagasse Foundation is proud to announce its partnership with GoodCook as the primary contributor of kitchenware to schools selected for its recently launched national culinary education program, Emeril's Culinary Garden & Teaching Kitchen.
As a key donor, GoodCook will provide kitchen tools to schools across the country that are implementing the program. A vision of Emeril and his wife Alden, Emeril's Culinary Garden & Teaching Kitchen was created to enrich the lives of elementary and middle school children through a fun, fresh perspective on food. Officially launched in August 2018, it fully integrates culinary gardens and teaching kitchens in schools as interactive learning environments.
By providing these cooking necessities, GoodCook sets students up for success. The company, known for its high-quality products, will deliver a full range of cooking gear – from sauce pans, pots and pie dishes to mixing bowls, bakeware and cutting boards. Each teaching kitchen includes three cooking stations to accommodate up to 30 students, as well as a station for an instructor. The donated equipment is essential for the activities students will perform in their lessons.
"Part of sparking an interest in cooking is having the right kitchen tools, gadgets and cookware essentials that make cooking fun and recipes easy to execute," said Thomas Barber, Sr.VP of Marketing for GoodCook. "With GoodCook products widely available at grocery stores nationwide—the places where families do their regular shopping—we feel students will recognize the brand as they shop with their parents, and as they become young professionals it will continue to inspire them to be good cooks in their own kitchens."
Emeril's Culinary Garden & Teaching Kitchen allows the Emeril Lagasse Foundation to broaden its reach and make a direct, lasting impact on youth in America.
"Alden and I are so very appreciative of GoodCook for their generosity and support of our program," said Chef Emeril Lagasse. "Emeril's Culinary Garden & Teaching Kitchen is designed to create a hands-on experience that will equip students to understand nutrition and develop cooking skills that better prepare them for their lives outside the classroom. With the top-notch culinary tools provided by GoodCook, our students will have everything they need to succeed."
Through a unique curriculum developed by a national task force of educators, culinary professionals and farm-to-school experts, schools are provided with grade-level standards for gardening and cooking classes that are not only integrated across all core subjects, but also aligned with national academic standards. The curriculum uses over 100 of Chef Emeril's recipes that have been modified for the classroom.
"Schools in underserved communities lack the resources to develop fully integrated programs incorporating gardens and kitchens, and our partnership with GoodCook helps fill that void," said Brian Kish, president of the Emeril Lagasse Foundation. "The company's contributions to Emeril's Culinary Garden & Teaching Kitchen schools allow us to continue providing as much as possible to those who need it most."
As Emeril's Culinary Garden & Teaching Kitchen is currently being established at its first school in Florida, GoodCook's generosity will be felt first there. Other schools under consideration are in Nevada, Louisiana, Texas and Washington, D.C. The Foundation's goal is to have the program implemented and running in at least 10 schools by 2023.
Schools interested in applying for a grant for Emeril's Culinary Garden & Teaching Kitchen can learn more about the application process here. Corporations or individuals interested in supporting the program can learn more here.
About Emeril Lagasse Foundation:
Founded in 2002 by Chef Emeril Lagasse and his wife Alden, Emeril Lagasse Foundation is a 501c(3) public charity headquartered in New Orleans. The Foundation's mission is to create opportunities to inspire, mentor and enable youth to reach their full potential through culinary, nutrition and arts education with a focus on life skills development. Since its inception, Emeril Lagasse Foundation has granted more than $10 million to several children's charities to support culinary, nutrition and arts programs. The Foundation was recognized as the 2016 Nonprofit of the Year by Louisiana Association of Non-Profit Organizations. To learn more about the Foundation and its beneficiaries, visit Emeril.org, or follow us on Facebook, Twitter or Instagram.
About Bradshaw Home and GoodCook®
Bradshaw Home, headquartered in Rancho Cucamonga, CA, markets a wide assortment of kitchen tools, gadgets, bakeware, cookware, food storage and tabletop products. Marketed under the GoodCook® brand name, Bradshaw maintains the number one market share for kitchenware in grocery stores, currently distributing in more than 35,000 retail store outlets in North America, New Zealand and Australia. For more information about GoodCook® and its products, or to find GoodCook® retailers, consumers may call 800-421-6290.