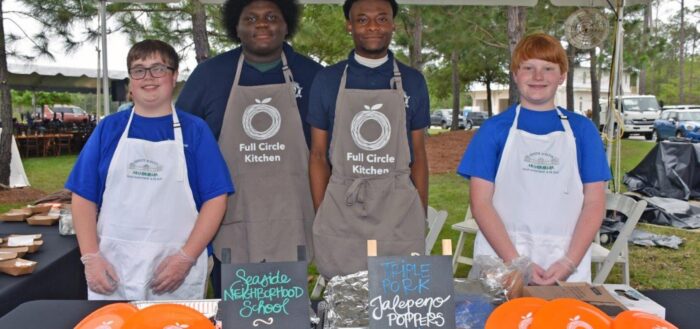 Food for Thought and Seaside School Foundation Team Up for Chi Chi Miguel Weekend
Bringing together the very best in food, wine and philanthropy, the Emeril Lagasse Foundation recently hosted the 13th annual Chi Chi Miguel Fundraising Weekend in picturesque Santa Rosa and Miramar Beach, Florida.
The spirited outdoor barbeque raised a record breaking $1 million for Gulf Coast charities and put the spotlight on the charitable causes that inspire the event, which has grown from a small backyard barbeque to one of the Emerald Coast's most successful fundraisers.
On Saturday April 6, five cooking teams of acclaimed winemakers, pitmasters and well-known chefs competed for the title of this year's champion cooking team at the annual Throwdown Benefit Auction & BBQ.
Among the event's standout barbeque dishes, Emeril Lagasse Foundation's local beneficiaries Food for Thought and Seaside School Foundation added an extra special element by teaming up to collaborate on a unique dish that was served throughout the evening.
Combining their collective creativity and culinary skills, students from the two beneficiaries cooked and served triple pork jalapeño poppers with crushed cracklin' to the sellout crowd of over 300 guests. The dish showcased skills the students have worked hard to sharpen in the culinary programs run by the two organizations.
A non-profit based in Santa Rosa Beach, Food for Thought has worked to fight child hunger throughout Walton and Okaloosa Counties since 2010.
In September 2017, a three-year $125,000 grant from the Emeril Lagasse Foundation helped launch its Full Circle Kitchen program. The program introduces high schoolers enrolled in the organization to fundamental cooking skills through classes taught by community restaurant partners and local chefs.
Also given the opportunity to learn cooking skills beyond their regular schoolwork, students from Seaside Neighborhood School lent their creativity to the dish using knowledge gained from elective classes in the culinary arts that are supported by Seaside School Foundation.
In 2018, Seaside Neighborhood School became the first school in the country to receive a grant from the Foundation to implement Emeril's Culinary Garden & Teaching Kitchen – a nationwide education initiative created to enrich the lives of elementary and middle school children through a fun, fresh perspective on food.
"The collaborative efforts of these two inspiring organizations were a wonderful addition to Chi Chi Miguel Weekend this year," says Brian Kish, president of the Emeril Lagasse Foundation. "Not only did these amazing students put their culinary skills to the test and create a delicious dish, but they also served as a wonderful example of what this fundraiser is really about – empowering youth through food and giving kids from all walks of life the opportunities to learn new skills and grow."
Emeril Lagasse Foundation is proud to support organizations like Food for Thought and Seaside School Foundation that are enabling students to develop valuable skills beyond the classroom. Learn more about how you can get involved or make a donation by visiting our Get Involved page.