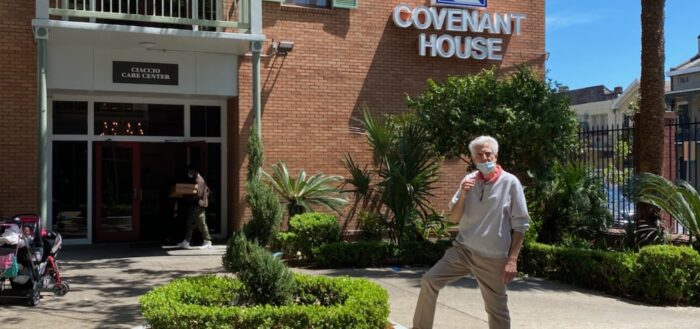 Providing a Safe Haven for Homeless Youth
For over 30 years, Covenant House New Orleans has provided a safe haven for runaway, homeless and at-risk youth. During that time, the organization has helped over 30,000 young people from the New Orleans area and from across the United States by providing food, shelter, clothing, counseling, medical attention, educational assistance and job training.
One of the main focuses of Covenant House is to assist youth in finding jobs in order to save money and find a purpose. In the wake of the COVID-19 pandemic, 85% of these young people lost their jobs and the organization is now caring for the 24/7 needs of over 200 people. The large increase in the number of youth served at Covenant House New Orleans also comes with increased expenses.
Covenant House New Orleans has been a long-time beneficiary of the Emeril Lagasse Foundation community grants. Grants to Covenant House support the ongoing needs of the youth who seek refuge there. Last year, with help from a grant from the Emeril Lagasse Foundation, Covenant House renovated its kitchen and dining hall which is responsible for feeding current residents of the program as well as other hungry youth that come to Covenant House off the street through their outreach programs. The organization is dependent on the generosity of grants like those of the Emeril Lagasse Foundation and public support.
Covenant House Executive Director Jim Kelly says, "When you talk about Alden, Emeril, and the Foundation, this is their heart and compassion at work here. They believe in our kids and they believe in their goodness. They see hope and they see promise. I think that is what is so wonderful and so amazing about them and their generosity.
In addition to being a recipient of the Emeril Lagasse Foundation community grants, Covenant House also received weekly meal delivery from Emeril's restaurants during the pandemic. This partnership has provided nutritious meals for over 200 youth per week. These meals not only provide food security for the residents of Covenant House, but also provide a sense of love and family in each meal.
You see goodness all around you. This is what I call 'moments of grace'. Grace is often so hard to define, but it is grace. What Emeril, Alden, and the Foundation have been led to do is grace, Kelly says.
In the months ahead, Covenant House New Orleans expects major increases in aberrant and violent behavior: sexual abuse and assault, domestic and street violence, alcohol and drug abuse, human trafficking, depression and suicide due to the pandemic and the subsequent economic downturn. This will result in an even larger increase in young people in need of the organization's services and Mr. Kelly and his staff will be there to meet their needs.
For more information on donating and volunteering with Covenant House New Orleans, click here. To learn more about Emeril Lagasse Foundation COVID-19 relief efforts, click here.