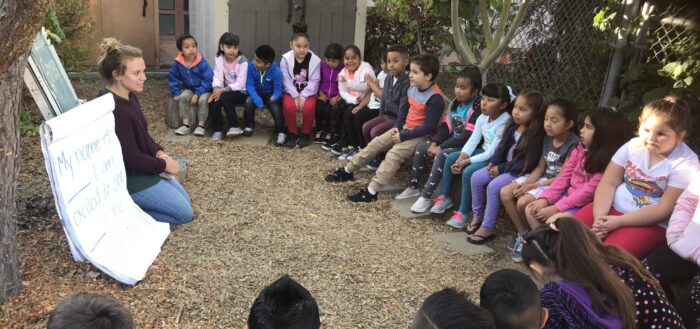 Emeril Lagasse Foundation Announces Two New School Sites for Emeril's Culinary Garden and Teaching Kitchen
Emeril Lagasse Foundation announces DC Bilingual Public Charter School & Starlight Elementary School have been selected as the newest school sites for its national education program, Emeril's Culinary Garden & Teaching Kitchen. Established by the Emeril Lagasse Foundation, the program integrates culinary gardens and teaching kitchens in schools to create interactive learning environments centered on food.
Our signature program brings a fun, fresh perspective on learning to children in their everyday curriculum," said Chef Emeril Lagasse. "We believe engaging students through food offers unique opportunities for them to learn skills and values to be successful both in and out of the classroom. We are honored to welcome DC Bilingual Public Charter School & Starlight Elementary School to Emeril's Culinary Garden & Teaching Kitchen school network.
DC Bilingual is a pre-K through fifth grade public charter school in Washington, D.C.'s Ward 5 neighborhood. Serving more than 450 students with diverse backgrounds, the school's mission is to create a learning community that ensures high academic achievement for all students in both Spanish and English, develops leadership and values all cultures.
A five-year grant from the Emeril Lagasse Foundation will allow DC Bilingual to retrofit an existing classroom into a teaching kitchen and to expand the school's culinary and gardening curriculum to one that reinforces all elements of core academic subjects. The program will also strengthen social and emotional competencies in students and further the school's role as a first-class model for school food and community wellness.
Starlight Elementary School, led by Principal Jaclynne Medina, is a transitional Kindergarten through fifth grade public school in the Pajaro Valley Unified School District. Serving more than 550 students with diverse backgrounds, the school seeks to ensure educational equity for students and their families, many of whom are connected to agriculture as both a way of life and source of income.
A five-year grant from the Emeril Lagasse Foundation will allow Starlight Elementary to grow its garden and cooking program through the addition of a new culinary garden and newly manufactured modular classroom that will serve as a dedicated teaching kitchen. The culinary garden will be constructed adjacent to the teaching kitchen and designed to accommodate larger numbers of students along with the integration of more complex culinary, nutrition and gardening instruction.
Outdoor classrooms and increased classroom space on school grounds will play a critical role in helping schools across the United States to safely reopen," said Brian Kish, president of Emeril Lagasse Foundation. "Our program provides these spaces and immerses students in a hands-on learning environment that enhances confidence, nurtures critical thinking, and fosters important life skills.
In addition to DC Bilingual & Starlight Elementary, Emeril's Culinary Garden & Teaching Kitchen is currently being implemented at schools in Louisiana & Texas. Each participating school receives a five-year grant to assist with implementing the program, which includes a unique K-8 cooking and gardening curriculum aligned with national academic standards, small-ware cooking equipment provided by GoodCook and membership in a community of practice where teachers share and learn effective approaches to gardening and cooking instruction.
Schools interested in applying for a grant to implement the program can learn more about the application process here. Corporations or individuals interested in offering support can learn more here.